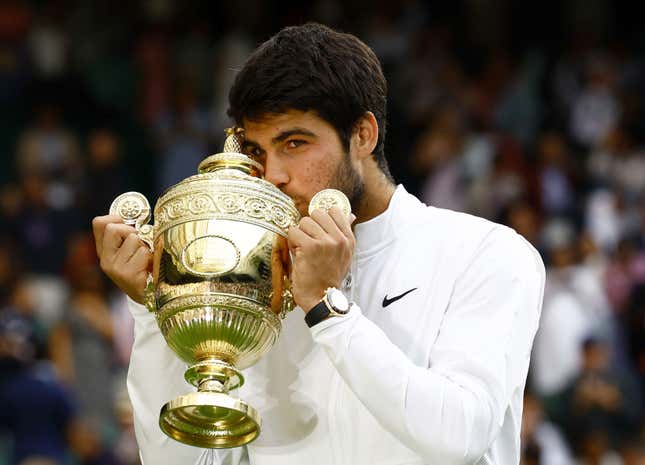 Tennis is undergoing its Steph Curry moment. The way Carlos Alcaraz controls the country club sport through his racket is unlike anything we've seen before. Nearly a decade after Curry's rise to superstardom, every high school sophomore thinks swishing a 40-footer is routine. It's not, and every airball should get that small forward benched. Alcaraz's ability with drop shots, plopping lobs over opponent's heads to seamlessly fall close to the baseline, and his unprovoked power on return winners is a spectacle to watch, and impossible to recreate. We've only seen the beginning of the 20-year-old Spaniard's story, with other amendments to how tennis is viewed and consumed over the years taking place. And where does Alcaraz's status fit among other tennis legends at an age where they couldn't legally buy an alcoholic drink in the United States? Let's diagnose.
Being a Tennis Gladiator like Roger Federer | Bear Grylls' Ultimate Sports Fantasy
Alcaraz just turned 20 in May, meaning he still has two more major tournaments before his next birthday. Already with two Grand Slam titles under his belt, Alcaraz has tied the number of big-four tournament wins by the previous male tennis' regime. Tennis' aging big three of Roger Federer, Rafael Nadal, and the man Alcaraz defeated to win Wimbledon on Sunday, Novak Djokovic, had a combined two Grand Slam titles before turning 21. Both belonged to Nadal in the 2005 and 2006 French Opens. Both Federer and Djokovic won their first Grand Slam titles at 21. Alcaraz still has the opportunity to be a four-time Grand Slam champion by the time he turns 21, although Djokovic's dominance at the Australian Open is the biggest roadblock to that becoming reality.
Going back a generation of legendary tennis players, Pete Sampras only won one major before turning 21, the 1990 US Open. Longtime rival Andre Agassi was 22 for his first Grand Slam victory. Boris Becker won two Wimbledon titles before he was 20 and won four Grand Slams by his 22nd birthday. Becker couldn't sustain that pace throughout the rest of his career, retiring with six Grand Slam victories, winning one major tournament during the last decade of his career. Jimmy Connors' near calendar-year Grand Slam in 1974 came at ages 21 and 22. John McEnroe's three straight US Open titles from 1979-81 took place at ages 19-21. Michael Chang won the 1989 French Open at 17, didn't appear in another Grand Slam final until he was 24, and never won another major tournament.
The benchmark for early-career success in male tennis is absolutely Mats Wilander, who won four Grand Slam titles by age 21, the maximum Alcaraz can accomplish. Wilander only added to that total in prime adulthood with 1988's trio of Grand Slam titles. At this time, it'd be a little disappointing if Alcaraz retired with only seven major tournament singles wins. His pace out of the gates as a professional is nearly unmatched, with his first Grand Slam title defense beginning next month at the US Open. So much of his career is yet to be written, yet, winning this year's US Open or next year's Australian Open would give Alcaraz the chance to become the first player to win three or more majors before turning 21, then winning double-digit majors in his career. In short, we'll watch history unfold at the next two majors. And if the last pair of Grand Slam tournaments are anything to go by, Alcaraz's path to holding a unique piece of sports history will have to go through Djokovic, who is also on a path to break as many of the sport's records as possible. This clash of the generations will be fascinating to watch for as long as Djokovic can play at a high level.