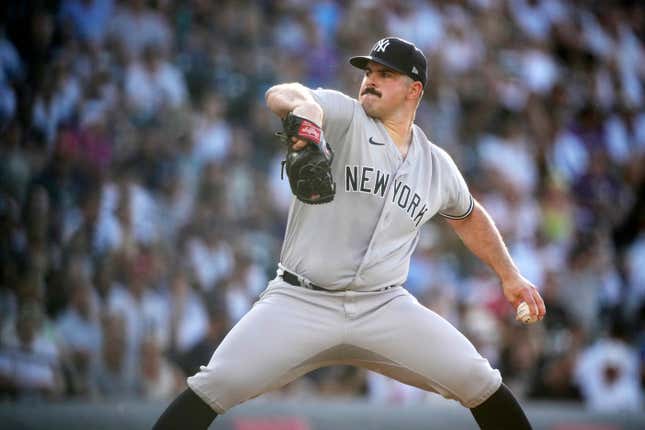 Boy, do I have a clip and some snark for those of you who hate the New York Yankees — or love them. There's a certain degree of masochism in all NY sports fans, because every single one of them has James Dolan, the Mets, the Jets, or maybe the Nets in their lives, and cannot, will not quit them. (Again, that's a maybe on the Nets.) Anyway, I promised a clip, and you're worked up one way or the other, so let me set it up.
Playing with Reggie Jackson | Chef Joe Bastianich
The Yankees are in last place in the AL East, and during Wednesday's fourth consecutive loss, and eighth in the past 10 games, Carlos Rodón, amid another disastrous start, blew a kiss to some Yankees fans at Angel Stadium.
Rodón has been hurt most of the season and has become the team's annual offseason salve-turned-scapegoat, dropping to 0-3, with a 7.36 ERA since being activated off the injured list. Rest assured, Yankees fans, he's getting lambasted in the fashion you're accustomed to at the outlets you frequent.
The 7-3 L to the Los Angeles Angels hurts in so many ways, but twisting the knife (knives) was that it completed the sweep for the Angels, a franchise desperately trying to get into the playoffs, and retain free agent-to-be Shohei Ohtani, aka this century's Babe Ruth if Babe Ruth also pitched a gem every fifth day, aka the desire of Yankees' fans everywhere.
The Angels moved a game behind the Yankees, who are 3.5 games out of the last Wild Card spot, and now a game behind the Boston Red Sox. That's not where you want to be, nor afford to be, because the AL East is treacherous this season.
Tampa Bay and Baltimore, currently tied for first place, have a whopping nine-game lead on New York, and about halfway between them is Toronto, so, yeah, not ideal.
Shit, I almost forgot to mention: Rodón is in Year 1 of a six-year, $162 million deal. Between him and Aaron Judge, that's $522 million for two guys who've appeared in 52 games combined this season.
The caveat is the Yankees are still three games over .500, have a positive run differential, and Aaron Boone provided very optimistic news on Judge's injury status this week. So, that's good, right?