It's April, and Carmelo Anthony owns New York again. How could he not, after Anthony scored 43 points, including threes for the equalizer in regulation and the winner in overtime, and the Knicks absolutely stole a game from a possible playoff opponent in the Bulls? The love-in has begun, and the narrative is simple: Carmelo drafted, composed, published and posted a statement game. But what if either of his threes had missed? Instead today we're talking about a Knicks team that wilted, blowing a 21-point lead with Melo on the floor for most of the comeback. Such are the perils of hero ball.
Jokic? Embiid? The NBA MVP is obvious... right? | Keep it a Buck(et)
Basketball is a wonderfully designed sport, and the only team game an individual can truly make his own. And that's what we want—until we don't. The moments we immortalize are almost always hero ball: we wistfully recall dominance, a player taking over down the stretch, putting a team on his back, refusing to let a team lose. Then we turn around and decry selfishness, taking too many shots, taking too many low-percentage shots, ignoring the open man. "Iso-Melo" is a recipe for hero and goat, depending on the day.
This is who Carmelo Anthony is, of course. The guy who's always going to take the shot, whether he's got a look or not. (On each clutch three yesterday, the Bulls defender—first Taj Gibson, then Luol Deng—was inexplicably playing a couple of steps off of Anthony.) The Knicks knew this when they traded for him. The fans know this every time they call talk radio to bitch about Melo throwing up an off-balance 18-footer at the buzzer that barely finds iron. Anthony is blamed for ruining Linsanity this year, and for displacing Feltonsanity last year, as if his insistence on being the guy poisons the Knicks' occasional discovery of chemistry. But Anthony's been doing this a long time, and afternoons like yesterday—a Garden crowd screaming its head off, fawning back pages—aren't going to change him.
Our relationship with hero ball is fraught, and it rubs off on certain players. Bill Simmons, handicapping the MVP race, had this to say about Kevin Durant, team player:
Durant could jack up 25 shots per game, easily win another scoring title and maybe even try for something like "I want to be one of the four guys in the last half century who averaged more than 36 points a game." He doesn't care. Does it make sense that Durant's point guard is averaging as many shots per game (19.4) as the modern-day cross between George Gervin, Tracy McGrady, Ray Allen and Spider-Man (19.5)? Of course not. Durant doesn't care. He knows that Westbrook needs those shots to get going; hence, he gives them to Westbrook.
G/O Media may get a commission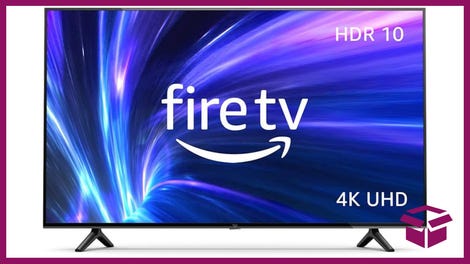 42% Off
Amazon Fire TV 50" 4K Smart TV
Then, a couple paragraphs later, Simmons slags off LeBron for pretty much the same thing.
Why hasn't LeBron felt any obligation to dominate one of these statement games (Orlando, Chicago, Indiana, Oklahoma City and Boston, all losses)? Shouldn't we be worried about his inability to shift gears depending on the game, the situation, or even the moment? He actually thinks he's doing the right thing by playing unselfishly, getting everyone involved, making the right pass at the right time and doing everything else you'd do in a vacuum when situations didn't matter.
What do we want? We want heroes, but we don't want hero ball. We want players to play the percentages, but we want "irrational self-confidence guys." There's no way this contradiction doesn't rub off on players, especially ones as media-sensitive as LeBron James. He knows when he's being called selfish for taking and missing a last-second shot. Maybe it makes him think twice the next time, give an extra glance to see who's open. This, I think, is what makes Carmelo Anthony a unique player—he honestly couldn't give a shit if you think he's selfish. There's something special about a guy who can tune out boos and newspaper coverage and keep chucking. It's swagger to the point of megalomania. (In that famous 1997 commercial, Michael Jordan said he missed 26 last-second shots. Media coverage wasn't near the level it is today, so would Jordan have gotten away with always being "the guy" at the buzzer with every blog trumpeting that Toni Kukoc's crunch-time PER made him the right choice? Probably. Nobody was more megalomaniacal than Michael Jordan, and it served him well.)
Carmelo's not as good as Jordan, obviously. But he's still by far the best player on the Knicks, and he'll still take that last shot, forcing fans to love him or hate him as required. Daryl Morey tried to make a coldly rational case for hero ball, but I'm not sure it wants or needs a logical justification. Hero ball is about a guy who craves adulation and glory, and either doesn't mind or doesn't expect the blowback when he fails. If you miss, you're remembered as the only reason your team lost. If you make it? Well, it's April, and Carmelo Anthony owns New York.