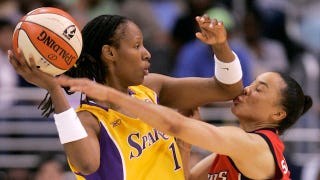 Back in November, former WNBA star Chamique Holdsclaw was involved in an incident with ex-girlfriend and former teammate Jennifer Lacy. Holdsclaw allegedly smashed the window of Lacy's car with a baseball bat, then proceeded to stick a gun in the window and fire a shot through the car while Lacy was still in it.
Today, Holdsclaw was indicted on two counts of aggravated assault, three counts of criminal damage, and one count of possession of a firearm in commission of a felony. Here is a picture of a 9mm shell casing that was recovered from Lacy's car following the incident in November:
Holdsclaw battled depression throughout her career, and once attempted suicide in 2006.
Image via Atlanta Police Department