What does chill bro and Houston Rockets forward Chandler Parsons do when he gets asked to prom by one of his fans? He politely declines, and then sends her a bitchin' party bus.
A few weeks ago, one of Parsons's young female fans took to Twitter to try and convince the dapper forward to go to prom with her:
Parsons told Flores he couldn't make it, but then he went and mended her shattered dreams by sending her the big-ass party bus you see in the picture above to be her ride for the evening. She seemed to be pretty pleased with how things turned out:
G/O Media may get a commission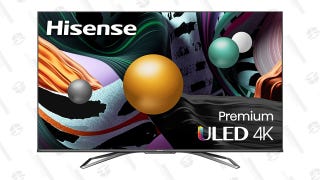 Save $350
Hisense ULED 65" Android 4K HDR Smart TV
We're not really big fans of the whole ask-a-famous-person-to-prom stunt that has become popular in recent years, because it just sets athletes and celebrities up to look like dicks when they decline the invitation. So kudos to Parsons for finding an artful way to avoid having to spend the evening with a bunch of weirdo high school kids while still scoring a boost for his public image. We really hope that girl has a lot of friends, though. It would be kind of embarrassing to have to roll solo in a bus like that.
h/t Mark