Out friend Ed Kupfer of the Houston Rockets made a quick animation of how the sheer size of the guys in the NBA draft have changed over the last 15 years. It's kind of surprising how much variance there is from year to year on short, tall, fat, and skinny players.
Mostly the groupings look similar, but you can see extreme position-heavy years show up broadly, like 2009 when everyone drafted a point guard or shooting guard, or the following year when the draft was unusually balanced.
Since you're probably curious about some of the outliers, let's start with the enormous guys. In 2003, James Lang, 6-foot-8, 316-pound James Lang was drafted to the Hornets. Lang bounced around the league on 10-day contracts, and played a little for the Wizards, but in 2009 suffered a stroke that left him partially paralyzed. 2004 had Peter John Ramos (7-foot-4) and 2010 had Dexter Pittman (6-foot-9, 303 pounds). The one omission you'll probably notice, since Ed's graphic cuts off at 7-foot-5, is Yao in 2002, who didn't come with official pre-draft measurements, which isn't standard but worked fine for anyone with eyes enough to see a 20-story building with redwoods for legs and an automatic set shot from 15 coming through the draft.
On the other end, there are the tiny small guys and the fat small guys. Khalid El-Amin came through in 2000 at 5-foot-9 and 200 pounds, and five years later, John Lucas was 5-foot-9 154. We were robbed of a dot for Aquille Carr, who stands 5-foot-4-and-a-half with no shoes, when he went undrafted on Thursday, but hopefully the kid with the YouTube roll longer than he is turns up in the league.
G/O Media may get a commission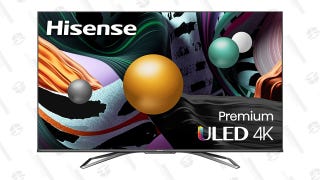 Save $350
Hisense ULED 65" Android 4K HDR Smart TV
Follow Ed for more stuff like this—he's one of the better NBA nerd follows on Twitter.
[Twitter]