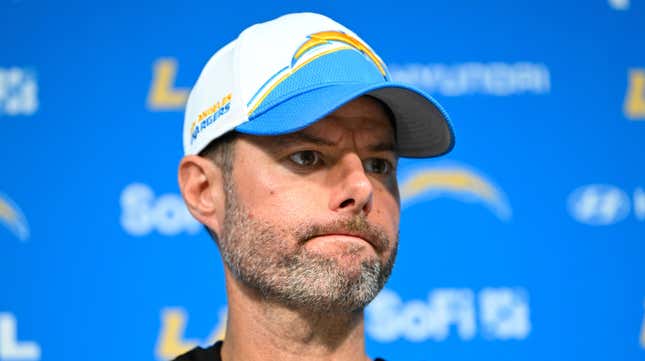 Los Angeles Chargers head coach Brandon Staley is in a rough spot. Staley's crew lost another close game Sunday, and following the loss, he let reporters have it over the continuing narrative that the team's playoff loss to Jacksonville in January has carried over into this season. Whether that's the case or not, Coach Watch 2023 is officially on, and Staley is among the frontrunners to get axed during the season. Staley has yet to prove that anonymous executive wrong who called him a "really bad coach with a great roster."
The season might already be over for these two
"I'm not worried about the Jacksonville loss," Staley said. "The Jacksonville loss hasn't carried on to this season whatsoever. If you've seen our training camp, or you've seen the way we've played in the first two games, it hasn't had an impact on our team whatsoever. Our team is connected, our team has played its heart out the last two games, and we've lost two tough games, but it has nothing to do with the Jacksonville game. And that's just the truth…"

Right now, all that matters for the Chargers, and Staley is getting that first win. They've scored 58 points in the first two weeks of the season and lost both games by a combined five points. This team is far too talented and has a head coach who was a defensive coordinator in the NFL for one year before taking over. He's been given every chance other coaches don't get, especially when they are black. Staley's even had more than many first-time white head coaches who never get a franchise quarterback. This guy walked in, and Justin Herbert was ready to go.
All Staley and his staff have done in LA is waste a couple years of Herbert's career. That's all. There doesn't seem to be any sense of urgency, but that's from the outside looking in. And Staley doesn't get all the blame, as there have been times when Herbert and the offense haven't come through in clutch moments, especially in these tight games. However, the defense (Staley's specialty) has continued to drop the ball more often than not.
The Chargers travel to Minnesota for a Week 3 matchup with the Vikings, then back home to welcome their division rival Las Vegas Raiders. Seeing how the next two weeks are essentially road games, Staley's team is in a tough position leading into the bye week. If they head into the bye 0-4, we may have heard the last of Staley as head coach of the Chargers. It's not ideal but dropping four games to open the season in a tough AFC basically means your postseason ambitions have evaporated. It's too bad Austin Ekeler was out for the Chargers yesterday, it'd be interesting to get his thoughts on the loss.