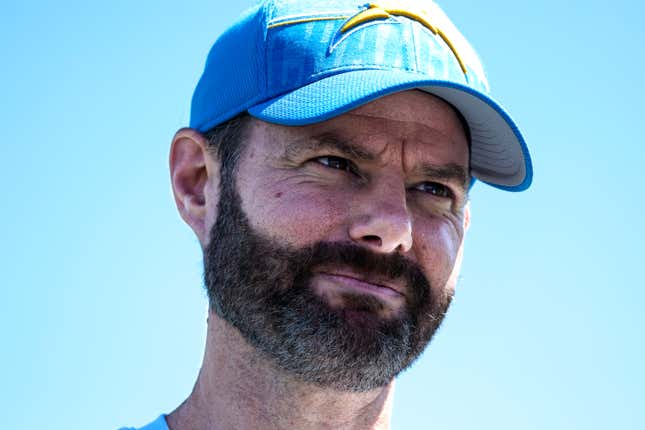 Dallas Cowboys owner Jerry Jones is arguably the most polarizing owner in the NFL and possibly North American pro sports. Everyone has a take on Jones, and many league conversations circle back to Jerry even when they don't necessarily revolve around him. That was the case recently when FanBuzz spoke to anonymous executives about which coaches are on the hot seat entering the 2023 season. One NFC executive claimed Jones would've already fired Brandon Staley for not winning more with Justin Herbert.

Is Dan Snyder a human shield for Jerry Jones? | Conspiracy Thursday
"Brandon Staley is a really bad coach with a great roster." This NFC personnel executive said. If Jerry Jones had Justin Herbert, that head coach would have been fired two years ago. Guaranteed. What's the difference between Herbert and Troy Aikman? Nothing, in my opinion. They're smart, accurate, big arms, great guys, and leaders off the field. They should be rolling, but they haven't been."
Those are pretty strong words being hurled at Staley. Of course, they prefaced that burial by saying Staley is a "nice guy" and explaining that the organization is cheap and doesn't think they'll actually fire him. Then went on to totally blast Staley for the next few lines. It's that line we all love. No disrespect, then here comes blatant, unabashed disrespect.
It's not always what ya say but how you say it. That certainly applies here as this anonymous personnel person was telling some truth. The delivery may have been a bit harsh, but the message was solid. These former San Diego Chargers have still been San Diego Chargering in Los Angeles. Finding new and incredible ways to lose and underachieve. Calling Staley a "bad coach" may go a little far, but some out there would agree.
The part about Jones firing Staley long ago is where this exec seems to go off the rails. It's possible this exec either works for Jones or did at some point. For all we know, this might actually be Jones himself under the veil of anonymity, but the world knows that word probably isn't in his vocabulary.
Apparently, somebody has forgotten about Jason Garrett's tenure in Dallas. He should've been out at least two to three years before Jones finally ended that relationship. While Jones did have a soft spot for his former player, this notion that Jerry would've callously cut bait with Staley after one year of service seems overblown. The shortest-tenured head coach in Cowboys history under Jones was Chan Gailey, who lasted two years and made the playoffs in both campaigns. Dave Campo replaced Gailey and coached Dallas for three years, winning five games each season.
Staley may not be the best coach in the NFL or even in the top five. But the Chargers did improve by one game last year, Staley's second as head coach. The playoff loss to the Jacksonville Jaguars in January was embarrassing, but they did make the field of 14 for the first time under the Staley/Herbert regime.
So, the Chargers are improving slowly, but despite some flaws in what this exec says, many would agree that Staley is most likely on the hot seat. Another 10-win season, a first-round exit could see the coach receiving his walking papers. This anonymous personnel exec is onto something there. But all this business about Jones firing Staley two years ago. Not as much.