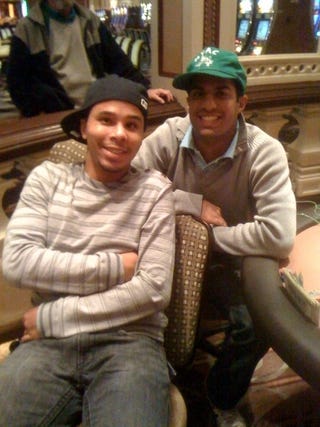 Charlie Davies, having survived a car accident that required doctors to peel off his face, is not only training again but, as a reader reports, he's playing $5/$10 no-limit hold 'em well into the whiskey hours. I like this guy.
Reader Mirza sends along the photo you see here and writes:
I was playing poker at the bellagio around 5am on jan 6 and it took me an hour to relaize I was sitting next to Charlie davies. We chatted for a while and he basically told me the exact same thing you guys blogged about. I couldn't believe how fast he had healed. He was walking around and moving pretty easily. He said he definitely would be back playing in France by the end of the season and expected to be in the south Africa squad. Thought you might get a kick out of that.
Also, a note about Davies's ear-to-ear scar, from reader Tim:
That sounds like the scar I have on my scalp from cranio-facial surgery as a baby and teenager, which came from a condition I was born with called Craniosynostosis. It's the same thing Jorge Posada's son had. It's totally treatable, but leaves you with a scar from ear to ear that, if you're lucky, can be hidden by your hair for as long as you have hair. The whole face doesn't get peeled down though; it gets folded down to roughly the eye-line. I saw a photo of this being done to me during the second surgery, thankfully from above the head and not face forward. This scar seems to be more common than I thought as I see people every so often with short-cropped hair revealing it. Anyways, it's not as dramatic as it sounds. It's still creepy as shit though.
* * * * *
Thanks for your continued support of Mapplethorpespin. Barry will be here soon.