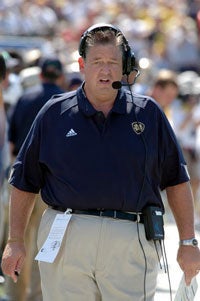 In case you've fallen behind on your coverage of failed gastric bypass surgery involving major college football coaches, Notre Dame head whale Charlie Weis is in Day One of his negligence trial in which doctors ignored internal bleeding warning signs. Weis underwent the surgery in 2002 because he was afraid his frightening weight would cause him to not garner top coaching jobs. The surgery didn't work, though it turned out OK for him. A highlight from the trial:
William Dailey, attorney for doctors Charles Ferguson and Richard Hodin, countered that Weis' internal bleeding was not unusual for this type of surgery. Hodin said Weis was briefed about the dangers of the surgery, in which five to 10% of patients have serious complications and one out of 100 dies. Dailey said Weis was so desperate to lose weight that he once took the dangerous and now-banned diet drug Phen-fen.
Not yet called as a witness in the trial? The real reason for Weis' internal bleeding: Ron Zook.
Strong Opening Drive For Team Weis [The Wizard Of Odds]