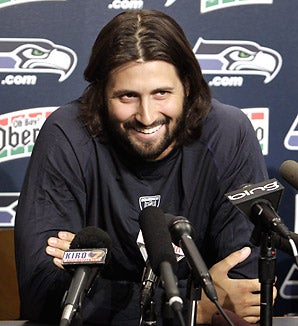 Every morning, the fine folks at Sports Radio Interviews sift through the a.m. drive-time chatter to bring you the best interviews with coaches, players, and personalities across the sports landscape. Today: Pacific Northwest Jesus, in more hopeful times.
Charlie Whitehurst joined 710 ESPN in Seattle with Kevin Calabro and Jim Moore to discuss what it was like to lead the Seahawks into the playoffs, his approach this week since he doesn't know if he'll start, whether he feels he's earned the start, the arguments that Hasselbeck should start, if the Seahawks are using bulletin board material this week and Seattle's chances of beating the Saints.
(Ed note: this was recorded before Pete Carroll went with baldy.)
On quarterbacking the Seahawks to the playoffs by winning an all-or-nothing Week 17 game:
"It was fun and exciting for me, too. It was awesome. I'm excited for the whole team. I thought it was a team win. I thought the defense was incredible. … We're going to the playoffs and it feels pretty good."
On his approach this week without knowing if he'll start:
"I haven't [been told]. I'll prepare like I did last week. I was told to prepare like you're going to start the game and that's what I did. I know things can change throughout the week and things can change this week, but it's easiest for me to do it like that. I don't know what's going to happen, but I'll be prepared to start and I'm sure Matt will also."
On making good decisions:
"As well as our defense was playing, it wasn't the only way, but one way they could've got back into the game was a poor decision on my part or a turnover and I didn't want to let that happen. … I didn't want to make a bad play and cost us."
On if he's earned the start:
"I don't know. You probably know what I'm going to say. It's not my decision. I would love to get a chance. Obviously, these are the kind of games you want to play in. I'll prepare and Matt will prepare and we'll see what happens."
On if he's prepared for playing the New Orleans Saints in the playoffs given Hasselbeck has more experience:
"I think I am. I understand that argument, but I think Matt and I have some different styles … I don't know. It's for the coaches to figure out and put us in the best position to win and what they decide, I'll be happy with."
On whether the Seahawks will use bulletin board material given they aren't being given a chance:
"We hear it. What are you going to say? I think the motivating factor is we're in the playoffs and we're playing the defending world champions. I think anything other than that is kind of minor. I don't think our minds are going there at all."
On the Seahawks taking on Drew Brees and the Saints:
"I like our chances against him, for sure. Defensively, we were great against the pass against [the Rams] and we'll see what happens. Like I said, they're the world champions, they're coming in and they have a great quarterback, but we'll be confident we can get the job done."
This post, written by Eric Schmoldt, appears courtesy of Sports Radio Interviews. For the complete highlights of the interview, as well as audio, click here.
More from Sports Radio Interviews
• John Fox has no urge to return to college.
• Bert Blyleven is happy the HOF overcame decades of anti-Dutch sentiment.
• Randy Edsall's already off to a great start.