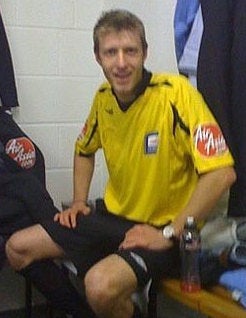 I confess that I do not know a lot about soccer. Sure, I know some of the big names and will watch the occasional match in Spanish when flipping through obscure cable channels, but I don't pick up much of the nuance and detail that captivates the die hard enthusiast. So maybe some of the more enlightened "football" fans out there can answer this question for me. Is it normal for a guy with zero refereeing experience to come out of the stands during the middle of a match and install himself as an official for his favorite team's game?
Jarred Knight was at an away game for his favorite squad, the Wycombe Wanderers, when one of the linesman on the field hurt himself. The linesman was replaced the fourth official—who handles substitutions and timekeeping—but that meant there was no one available to replace that guy. So the teams asked over the PA system if any referees were in the house that could assist, which—let's face it—was just opening the door for some nutter to have a laugh at them.
"The game was going to be called off. So when the call came out I thought 'I'll have a bit of that'.

"I spoke to a steward who took me to the front desk and I told them I had come all the way from Wycombe and I didn't want the game called off. I thought if it came off it would be one of the best stories ever – it was tremendous."
The most miraculous part is that Knight claims that he hadn't been drinking. Wow, he really is a good con man.
The Fourth (Un) Official [Unprofesisonal Foul]