Once the vibrant and thriving center of the city, Downtown Disney has fallen on hard times. Crime is rampant, property values have plummeted and the area is ripe with decay. Witness Minnie Mouse, turning tricks at the seedy Disney Inn. Goofy has been arrested 17 times for aggressive panhandling. And Donald Duck runs an adult book store. And gangs ... gangs are everywhere. Or would be, if black people are allowed to loiter.
Walt Disney World ejected four of Florida State University's top football prospects from Downtown Disney last weekend under its anti-gang, no-loitering policy. The four, including the son of a Disney manager and the son of a Philadelphia civil-rights lawyer, were banned for life from Disney World property late Friday.
The Sentinel goes on to note that 45 of the 46 people banned from Disney for life during the past two weekends were blacks or Latinos. I've head that Walt Disney was an anti-Semite, but this? Well, I should have figured something was up when the park changed the names of a few of their attractions.
• Strom Thurmond's Haunted Mansion
• It's a White World After All
• Profilers of the Carribbean
• Honey, I Shrunk the Black Demographic
• Tom Bosley's Blues Jam
Disney Accused Of Profiling Black Teens [Orlando Sentinel, via SportsbyBrooks]
(You'll note, by the way, that Rick's occasional posts now come to you with Special First Person Action!)
G/O Media may get a commission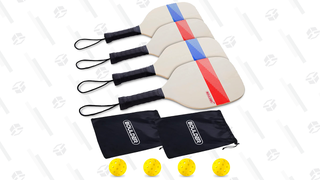 It's Pickleball
Pickleball Sets