Blame it on the snow, but that was barely football.
Neither the 49ers nor the Bears completed a pass in the first quarter of Sunday's 26-6 Chicago win, something that hadn't happened in the NFL in 28 years. San Francisco had minus-14 passing yards and the half, and finished with six on the day, the second fewest in franchise history.
Jokic? Embiid? The NBA MVP is obvious... right? | Keep it a Buck(et)
The Niners have now lost 10 in a row, and I'm not sure quarterback is their problem. Which is to say that it is a problem, but the team is so riddled with issues that this one doesn't even particularly stand out. But head coach Chip Kelly made the switch at the beginning of the fourth quarter, sitting Colin Kapernick for Blaine Gabbert. Deck chairs on the Titanic come to mind.
"We haven't had any discussions about anything," Kelly said. "It was just my decision to make a move to see if we could get a spark and see where we were.

"At that point in the game, we're down a couple of scores and, obviously, we have to throw it a ton. So we just wanted to see if we could get a spark for our team. There were no permanent decisions or anything like that."
Kaepernick was bad, bad, bad, and his numbers barely seem real. He was 1-for-5 passing for just four yards, and took five sacks. His legs weren't even particularly helpful in a messy game where the run game was everything; Kaepernick ran six times for 20 yards, most of them on a single 14-yard scramble.
But it does seem a little weird that Kelly would complain about the passing game under Kaepernick when he simply wasn't calling passes for him. Through three quarters, only 10 pass plays were called up for Kaepernick. Gabbert, in his one quarter of action, had 11 pass plays called.
G/O Media may get a commission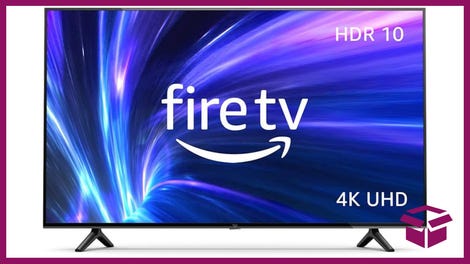 42% Off
Amazon Fire TV 50" 4K Smart TV
(Gabbert was better, if only because it wasn't realistically possible to be worse. He was 4-for-10 for 35 yards, and took one sack for a safety.)
Kelly did acknowledge that "maybe I was too cautious" in the gameplan before going to Gabbert, but wasn't happy with the number of times Kaepernick was sacked before getting the ball away.
Kaepernick said he was "surprised" when he was told that he was being benched, but demurred when asked if he believed he was given a chance to succeed.
"It's not about my feelings," Kaepernick said. "It's about being able to help this team win. This coaching staff didn't feel like I was out there being able to help this team win, so they made a change, whether I agree with that or not."
In totally unrelated news, it was reported before the game that Kaepernick will opt out of his contract and become a free agent in March, and while he hasn't ruled out returning to the Niners, he's expected to test the market.