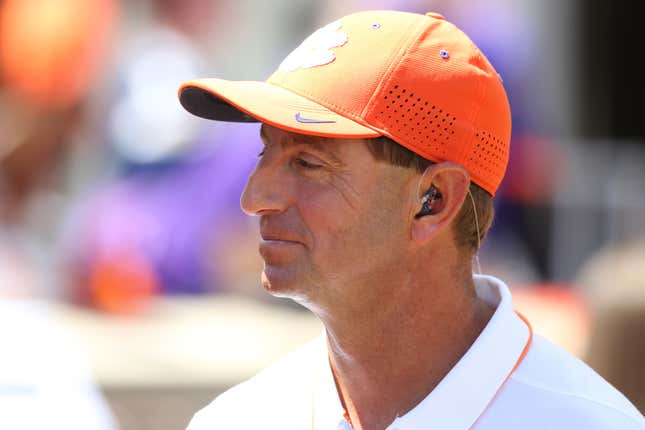 This isn't a referendum only on Clemson's embarrassing 3-touchdown loss to unranked Duke. Things have been unraveling in South Carolina for nearly two years now and the signs of Clemson being brought down a few notches on college football's hierarchy happens regardless of the result against Duke, simply because it wasn't a domination.
Top 5 football movies of the past 30 years
Monday's defeat, which puts the Tigers' national championship aspirations in serious jeopardy, falls directly to Clemson head coach Dabo Swinney. The head of a program is easy to blame. He's in charge of everything. The current predicament for Swinney comes down to the fact that his generational run of recruiting top-level quarterbacks has come to an end — and the bottom has fallen out for the program. It's comparable to the out-of-touch nature of another successful head coach, also tied to his quarterbacks' legacy, Bill Belichick.
How much of Clemson's success was due to Dabo?
The argument of how much of Belichick's success was just Brady bringing him along will be debated forever. Brady winning a Super Bowl without Belichick and the 71-year-old's success without the sixth-round draft pick will always feed the flames of that narrative. Swinney has a taller task, needing to recruit high-level players every year to play in a location just known for his football program. Clemson has had a phenomenal string of signal callers dating back to 2011 and Tajh Boyd. Deshaun Watson, Kelly Bryant, and Trevor Lawrence followed. The worst of that quartet was likely Bryant, and he was still elite and should be remembered for how he handled taking the job from Watson, not losing it to Lawrence, or his turbulent season with Mizzou and never getting a true chance in the NFL. Those four men brought the ACC school from the barely relevant days of Charlie Whitehurst and a unique uniform combination to the promised land.
Entering the 2021 football season, Alabama, Ohio State, and Clemson had the rest of the sport beat in a boat race. Nick Saban and Ryan Day have stayed the course since then, with Kirby Smart's Georgia essentially usurping Clemson among the top trio. With 15 seasons as an offensive assistant before getting the Clemson gig, Swinney seemed well-prepared for this long haul. And it took a few years to get the momentum going toward a college football dynasty. As he's said many times, it's harder to stay at the top than get there. Look at the roller coaster that is LSU. Joe Burrow and a national title, leading Ed Orgeron to be fired two seasons later. LSU started the season ranked in the top five, only to get shellacked by Florida State. Swinney likely won't be thrown overboard like Belichick any time soon, but the wear and tear on him has become irrefutable.
Winning on the road in conference play is tough. Winning when there's always a target on your back is tough. Dealing with first-game jitters and adjustments should be tough for most, and Duke was underrated entering this season. In the most exclusive, high-level company Clemson was previously considered in, those factors don't matter. Three years of multiple losses in a row and the sky is falling in Tuscaloosa, Columbus, Athens, South Bend, wherever Lincoln Riley is coaching, and maybe even Ann Arbor, too. And how could I forget Boulder? Just kidding, it's one damn game of the Deion Sanders era, not a long-standing pattern with Swinney. And to be clear, Swinney isn't doing a bad job. He's doing a bad job compared to the expectations he's set for his program. Either the goalposts move, or he takes the shots of falling below that lofty post.
And keeping it close against Duke and having better parts of the stat sheet staving off this reaction is actually comical. An aberration here and there, like Georgia nearly losing on the road to Missouri last season, is fine. How many people outside of Columbia actually remember that and take pride in it? Remember hearing about Alabama's game against Mississippi State last year? Even though the Bulldogs were ranked No. 2 in the country, the Crimson Tide won 30-6. Clemson has had more than enough meet-ups with being very good instead of excellent to not see the Swiss cheese holes in that image. And the fact I've made it this far into the story without needing to name-drop DJ Uiagalelei or Cade Klubnik, shows how much the team has fallen without the lottery of a good quarterback. And now, Swinney's inability to help lead them has come to the surface, just like Mac Jones in Foxborough.
Of course, it takes more than just Swinney to be successful, and to fail. Garrett Riley, younger brother to Lincoln, deserves blame, too, although it was his first game as Clemson's offensive coordinator. Swinney knows the ins and outs like a mastermind and made the Blue Devils look like ACC championship contenders last night, not his team. In the next two weeks, you'll hear about how Clemson has turned a corner by beating the brakes off of an FCS team and Florida Atlantic. Then Florida State, a team that actually looked good in Week 1, comes to town. Swinney should have three weeks to prepare his team for that game. Hanging in the balance will be the last shreds of whatever chance he has to re-enter his team into college football's elite and no quarterback savior is waiting in the wings.