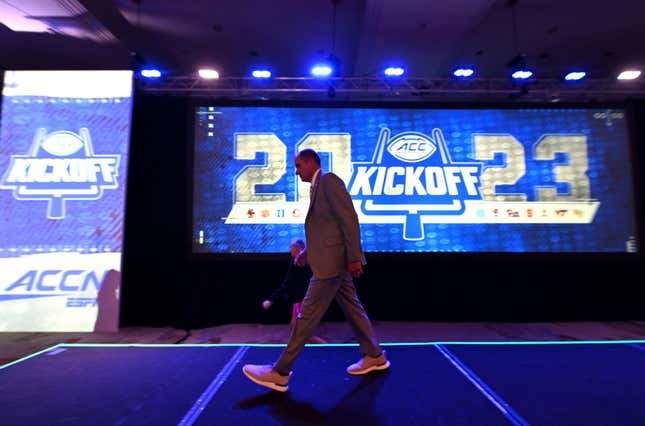 It's better to be proactive than reactive, right? Unless you consider what the Atlantic Coast Conference is already doing to be reactive, scraping up the leftovers from the Pac-12 Conference instead of having enough power in the college athletics landscape to attract more lucrative schools of their league. Adding Cal, Stanford, and SMU to the ACC — with the beautiful Atlantic coasts of Dallas, Berkeley, and Palo Alto — became reportedly official on Friday. While the league has taken some liberty with that coastal definition — Pittsburgh is near three rivers, Syracuse is in the state of New York, and most people think of Manhattan when you say that, and Virginia Tech is in the middle of nowhere — it all made some geographical sense. Everyone was in the Eastern Time Zone.
How running an NFL team is like running a restaurant | Chef Emeril Lagasse
So get ready for Cal-Boston College, already weirder than Oregon-Rutgers or West Virginia-Arizona State. And people were outraged at a Texas-Kentucky travel day for college football. That's child's play compared to the domino effect we've seen since the summer of 2021. The thought of adding three complete geographical outliers is reportedly driven by money, of course — trying to keep a big-time television contract in place while adjusting for possible future defections from the conference. The ACC's brass gave off the impression adding two Power Five Conference teams now, and one of the Group of Five's most recognizable brands, was better than adding schools with less notoriety down the line. And after all the back and forth, expansion happened, and it's odd.

The three ACC schools who voted against adding a trio this week might be its three biggest brands — Clemson, Florida State, and North Carolina. The league isn't in danger of folding like the Pac-12, even if all three juggernauts decide to switch conferences. The decimated Pac-12 has a membership of two for next season as of now: Washington State and Oregon State. Hope you like Beavers vs. Cougars! Although, they'll have new homes in the next several weeks — likely the Mountain West. With an angsty ACC trio that powerful on the outs, the game of conference roulette isn't done for the league. And if North Carolina wanted to join the SEC perhaps, Duke is coming with it, NC State and Wake Forest be damned. Florida State and Clemson were already likely contenders to eventually want to upgrade their league standing and Friday's vote only gives those tremors more credence. 

No matter how the conference schedules travel for all involved, and conference commissioner Jim Phillips gave his opening ideas to that on a teleconference on Friday, like the conference's football teams only having one trip to the Bay Area every other season, it'll play out less practically for the non-revenue sports. And with conference realignment not coming to a close with this move, merely just moseying on, his words could mean nothing in a matter of weeks. Will any of us be shocked if Florida State and Clemson decide to move to the SEC together for the 2025-26 season? SEC Commissioner Greg Sankey would be irresponsible not to listen to the Seminoles and Tigers if they wanted to come to the league. He did it with Texas and Oklahoma when it was less in style. And possibly the best non-Notre Dame package in the country? Sankey would pick up that call any day, any time.

This move screams settling. While the other three high-level conferences that'll exist beyond this season added valuable assets, Cal just adds depth. SMU has untapped potential, but it could be a dud. Stanford is one of the most competitive schools across the board in the country, but when has it last been truly relevant in the two revenue sports? There's a red flag with each addition and it's understandable why the movers and shakers from UNC, FSU, and Clemson wouldn't want to add those three. Today was a banner day for the ACC, just not for the positive reasons the league wants you to believe.