Browns 37, Bills 24: Even with both starting quarterbacks leaving due to injury, this was probably the most entertaining Thursday night game this season. Yes, even with Brandon Weeden and Jeff Tuel.
Both teams were on four days' rest, but the entertainment potential came from Brian Hoyer, who had created a dominant passing offense in the last two games. But then, roughly two minutes into the first quarter, Hoyer hurt his right knee when Kiko Alonso hit him as he slid awkwardly. Weeden took over, with the pocket presence of a middle-schooler pumped full of Mountain Dew.
Because it's Thursday night, and you can't have anything nice, the other starting QB got hurt, too. E.J. Manuel hyperextended his knee in the third quarter on this freak play. Tuel replaced him, handing off to Tashard Choice twice and drawing a big defensive pass interference penalty to set up a one-yard Fred Jackson touchdown to take a 24-17 Bills lead. So, it wasn't a total disaster! Manuel did not return, putting the fate of this game in the hands of Weeden or Tuel. Now you ingrates will have more appreciation for the shitty 1 p.m. Sunday games.
G/O Media may get a commission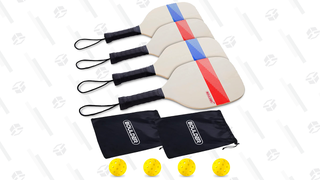 It's Pickleball
Pickleball Sets
Weeden ended up tying the game with an uncharacteristic touchdown pass to Josh Gordon, and the Browns took a 30-24 lead after a pair of Billy Cundiff field goals. Owner Jimmy Haslam was happy, but Tuel still had some time on the clock. This was his chance to show off his skills.
Nope. T.J. Ward ran back a pick, and Cleveland's now won three straight. The Browns are still undefeated when Hoyer starts, but according to reports that he may have torn ligaments in his knee, it might be Weeden Time once again.