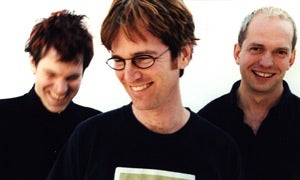 Due to piss poor time management, today's NHL Closer will once again share a post with college football and basketball. Sorry for the inconvenience. I started playing '1942' on my new Capcom plug-and-play and well ... the red enemy planes kept giving me extra loop power-ups! What was I to do? Not use them? Please!
• Ice Ice Baby. In my dreams every week is Shark Week. Evgeni Nabokov made 26 saves for his fifth shutout as the Sharks extended their club-record road-winning streak to eight games with a 1-0 win over the Blues. Chomp! ... Zach Parise scored the lone shootout goal, but Martin Brodeur did all the work, to hand the Devils a 2-1 SO victory over the Sabres. This poke-check save was especially sick. ... Chad LaRose, Eric Staal, Mike Commodore and Rod Brind'Amour all tickled the net to give the Hurricanes a big 4-3 win over the Bruins. Those four names rock.
• Bowl Central. Matt Ryan's two first names threw three TD passes as the Eagles extended the nation's longest bowl winning streak to eight with a 24-21 victory over Michigan State in the Champs Sports Bowl. I've already told you this. ... Backup running back Justin Watts scored the go-ahead touchdown early in the fourth to help TCU to a 20-13 win over Houston in the Texas Bowl. Yee-haw! ... Yvenson Bernard rushed for 177 yards in his final college game as Oregon State topped Maryland 21-14 in the Emerald Bowl. ... And finally, I read two NBA magazines and a Reader's Digest in my post-turkey Toilet Bowl visit. Winner: Me!
• They're Playing Amateur Basketball. Where were you when A.J. Graves sank a 35-foot shot at the buzzer to lift No. 16 Butler to a 57-55 win over Southern Illinois? Oh, at Grandma's still? How is she? ... Chris Warren scored 17 and Eniel Polynice was an assist shy of a triple-double as No. 22 Ole Miss notched a 78-58 win over Southern Miss. Tell me Eniel Polynice is this man's son. ... Muscular Will Daniels scored 18 points to lead No. 25 Rhode Island to a 92-75 win over Eastern Michigan in the Islander Invitational. I've actually partied at Eastern Michigan University before; I sort of wish they won.