This past weekend, my wife and I went to a quaint highway-side resort on Cape Cod to read magazines, pretend one clam chowder tastes any different from the next, and remember that the vast majority of Americans still don't give a shit what beer they drink.
The whole trip was refreshing and restorative, and the best part was immersing ourselves in the locals' who-cares-just-keep-'em-coming approach to getting liquored up on a rainy off-season afternoon. I think developing an appreciation for the finer beers exposes you to one of life's more easily accessible pleasures, but I can't judge anyone who just throws his hands up and declares himself a Miller Lite man. That's a more honest approach to beer than I took to chowder: I faked earnest evaluation as an alibi for demanding that we stop to drink hot, salty cream at each Cap'n Whoever's Clam Hut we passed. This was simple gluttony masquerading as research; I love clam chowder, but it's all kinda the same to me. How can I criticize anyone who takes the same angle on beer?
I was determined to spend the weekend drinking like a normal person (who drinks too much) rather than a person who (drinks too much and) always has his stupid beer notebook out. But I still fulfilled my professional obligation to Check Out the Local Craft Beer Scene by driving a few miles down the road to Cape Cod Brewing. It's a cool facility, and I talked to a couple of good guys while sampling my way through the day's lineup: their flagship red ale, a blonde ale, a pale ale, an IPA, a dunkelweizen, a pretty good saison, a marzen, and a very nice porter.
That's a perfectly wide range of styles, but anyone who's been to a brewery in the past few years will recognize the glaring absence of a single show-off beer. Nothing experimental, nothing sour or wild, no imperial this or barrel-aged that. Don't get me wrong—I love all that fancy shit. But it was still good to be reminded that there exists a very reasonable middle ground between the Miller swillers and the hardcore beer geeks who always need the biggest, newest, or rarest thing.
As noted previously, I'm wary of beers that have a lot of extra ingredients crammed in, especially when it seems as much of a gimmick as an honest attempt to push the envelope. This is why I've never tried Rogue's Voodoo Donut Pretzel, Raspberry, and Chocolate Ale, for instance. It may be very good, but I can't get over the suspicion that it's just a marketing stunt. I was similarly reluctant to try Clown Shoes Pecan Pie Porter, but I kept hearing good things, so I gave it a shot, figuring I'd either have a new beer to recommend to all you fine folks or, even better, something dumb to mock.
G/O Media may get a commission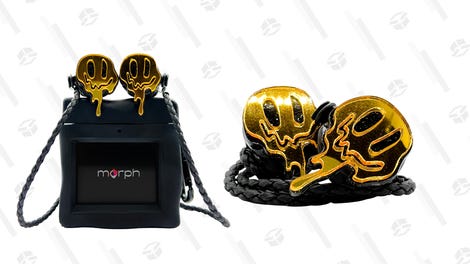 morph audio
Morph Earphones
Dammit, turns out it's the former. This is totally worth trying. Pecan Pie is an eight-percent-ABV porter brewed with roasted pecans, with a quarter of the final blend aged in bourbon barrels. It smells like dark rum, with the strong molasses character complemented by a vanilla extract note from the partial barrel-aging. It smells roasty, too, but in the typical manner of a big porter—the pecans don't really show up until drinking time. The taste isn't as weird as I'd feared, with a restrained nuttiness—I'd have guessed hazelnuts instead of, or at least in addition to, pecans, though I'm probably just bad with nuts—joining dark chocolate, coffee, decent brandy, and cola notes before it dries out on the long, mostly bitter finish.
Clown Shoes Pecan Pie Porter is ultimately a bit messy, with a few too many moving parts for my taste, but it is absolutely a serious and well-made beer that should appeal to any fan of flavored porters.
---
This is Drunkspin Daily, the Concourse's adequate source for booze news, reviews, and bullshit. We'll be highlighting a beer a day in this space; please leave suggestions below.
Will Gordon loves life and tolerates dissent. He lives in Cambridge, Mass., and some of his closest friends have met Certified Cicerones. Find him on Twitter @WillGordonAgain. Image by Jim Cooke.
The Concourse is Deadspin's home for culture/food/whatever coverage. Follow us on Twitter.