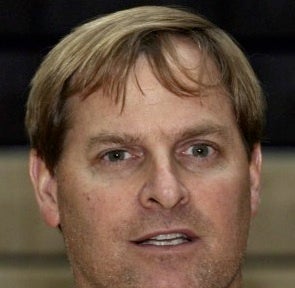 This is Southern Regional High School girl's volleyball coach Eric Maxwell, whom you probably remember from this memorable episode, which occurred earlier this month. He apologized immediately after it happened. Unfortunately, he gained aa new audience yesterday.
The Press of Atlantic City ( a little paper which has appeared in matters of national stink-causing before) ran a follow-up story on Maxwell today. The coach is very contrite and he assures everyone on the internet who saw it for the first time yesterday that it was, in fact, an accident.
"You see a short clip like that, but no one knows what preceded it. I'm not condoning my behavior in getting upset and yelling at a referee, but my intent was to throw it off the wall. It certainly looks like I threw it at her,
[I]'ve coached her for four years. After it happened, the team rallied around me and said, 'Coach, don't worry about it.'"
Amazingly, Maxwell did respond to some readers who sent him nasty emails yesterday about the video who were unaware he was trying to throw the volleyball threw the wall, not the young girl's skull.
Here's a response reader C.W. received:
I have been forgiven by all those involved. I have also been forgiven by Jesus. That's good enough for me. He will forgive you too for your remarks. There's one way to get to heaven and that is by having your sins forgiven by the Lord. Hopefully, I'll see you there.
Coach Maxwell
So take note, true believers: you can still get to heaven even if you accidentally chuck a volleyball at a high school girl's face.
High School Coach Explains Throwing Volleyball At Player During Match [Fanhouse]