Long after the credits should have rolled in the soap opera that was Junior Etou's high school basketball career, we have a plot twist.
Just before tipoff of Rutgers' season opener earlier this month, the NCAA suspended Etou, the big fish in new head coach Eddie Jordan's first recruiting class, for what would have been the first six games of his college career. (He is eligible to play beginning with tonight's game against Stillman College.) The school's athletic department issued a statement saying Etou was guilty of "accepting impermissible benefits from a third party from overseas during the Fall of 2012." In announcing the suspension, Rutgers athletic officials asserted they would "have no further comment" about Etou's case.
No, that's not the plot twist.
Turns out the NCAA isn't the only basketball body that's been investigating Etou, who arrived in the U.S. from his native Republic of Congo in late 2010 to play high school basketball. FIBA, the Swiss-based international sanctioning organization, was also on his case. FIBA rather quietly got around to delving into the most polarizing aspect of Etou's portfolio: his real age.
And after its look-see, FIBA rejected Etou's relatively recent claim that he was born in 1994. In a decision previously disclosed only to the player, FIBA ruled that the preponderance of evidence shows "that the player was born on 4 June 1992."
G/O Media may get a commission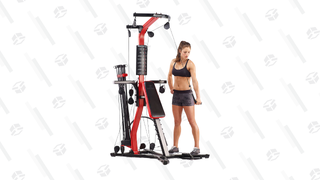 31% Off
Bowflex PR3000 Home Gym
That makes the recent high school graduate 21 years old, all over again.
Uh oh.
"I think this means somebody stole a championship," says Steve Turner, head coach of Gonzaga, a prep powerhouse in the Washington Catholic Athletic Conference and one of many folks in D.C. still peeved out the wazoo that Etou was allowed to play last season for rival Bishop O'Connell High.
The FIBA ruling is a huge blow for officials at O'Connell, particularly Joe Wootten, the school's basketball coach and athletic director. Wootten spent most of last season disclaiming the substantial paper trail and even statements from Etou himself that showed that he was two years older than O'Connell claimed the star power forward was—too old to play in the Washington Catholic Athletic Conference or pretty much any high school league anywhere.
Etou, while claiming to be only 18 years old, led O'Connell to the top ranking in the Washington Post's season-ending poll, not to mention a conference championship. This was no small feat. The WCAC is one of the strongest prep basketball confederations in the country, cranking out D-1 college talent years after year. You could say Etou played like a man among boys in the league tournament, but you'd only infuriate people around the WCAC. In the conference semifinals, Etou scored the final five points of the game, three of which came on free throws with 1.5 seconds left in double overtime, giving O'Connell a 58-56 victory over Paul VI. Then in the finals, he hit two foul shots with 4.9 seconds left to seal a win over St. John's.
Paul VI High School head coach Glenn Farello might be the angriest of the angry bunch. He expressed his view of what took place in the WCAC last season in a way that all the league's good Catholics would understand: "O'Connell sold their soul to win a championship," he says.
"The whole thing was ridiculous all year, and makes our whole league look ridiculous," says Farello. "Everybody knew he was too old. You can say it's sour grapes on my part, but I don't care. You didn't have to look at a bunch of 16- and 17-year-old kids crying in the locker room after that [WCAC semifinal] was stolen from them. I did and had to think about that all summer. This isn't a victimless crime."
Farello and Turner blame Wootten at least as much as Etou for the mess.
Etou had played for the Congo Republic in AfroBasket 2009, and that year he presented FIBA, the tournament organizer, with a birth certificate saying he was born on June 4, 1992. Reports at the time of the tournament called him the second-youngest player in the tournament. He averaged 1.7 blocks per game, the second-highest average of any player of any age. (In that statistical category Etou finished just above Cameroon's Ruben Boumtje-Boumtje, who had 1.6 blocks per game. Folks in D.C. remember Boumtje-Boumtje from his days at Archbishop Carroll High School, another WCAC school. And when Bou-Bou was in high school, he, too was accused of being older than advertised. Boumtje-Boumtje was brought to Carroll by his future college coach and Carroll alum, John Thompson Jr..)
Etou also used that same birth certificate in 2010 for at least two events: An NBA-sponsored camp for African players called Basketball Without Borders, and the African 18-and-under championships, for which he was listed on the Congo Republic roster as an 18-year-old. In the latter, Etou's team won its division in the group stage, but the Congo Republic squad had all its wins vacated and was tossed out of the tournament before the knock-out round for, ahem, having over-age players.
"It [looked] like everybody on that team was over 35," says Paris Nelson, an American who coached the Rwandan squad that lost to Etou's mature Congo Republic team by three points in the 2010 U18 tournament. "You can get away with it down there real easy. If you need new documents, you get new documents. But they had guys who had been playing as 18-year-olds for years and everybody recognized them."
Etou had tried turning back the clock two whole years by the time he showed up to O'Connell in the summer of 2012. His student visa indicated he was born June 4, 1994. After a FIBA official pointed out to Deadspin that the federation had a birth certificate confirming Etou's birth year to be 1992, Wootten produced a new birth certificate with the 1994 birthday. That paperwork was issued by the Congo following the publication of the Deadspin stories, however, and changed few minds about the player's true age.
FIBA said the organization had no oversight responsibilities over American high school basketball, and therefore declined to rule on the validity of Etou's new set of documents. But back in D.C., the grumbling about Etou got louder as the season went on—on top of those with rival leanings, I was contacted by several folks with O'Connell loyalties who were embarrassed by Wootten's handling of the Etou situation. All the whining, however, was delivered off the record: Nobody was willing to publicly slam Wootten, who is the son of Morgan Wootten, a beloved DeMatha coach and the godfather of D.C. prep hoops. There's a feeling among rival coaches that had he played for a coach with any other surname, Etou would have been thrown out of the league.
For all the bitterness, the Etou age story likely would have died when he graduated in June.
But then Etou muffed up.
According to FIBA officials, Etou signed on to play for the Congo Republic again in this summer's AfroBasket senior men's tourney. And he presented the group with his new set of documents, including the birth certificate issued this year, and asked that FIBA revise his official basketball birthday to June 4, 1994. Whether he was 19 or 21 years old made no difference to tournament organizers—all ages are eligible for play in AfroBasket's senior men's championship—but Etou surely knew that after all the hubbub in the WCAC he could not play at his old age without causing lots of trouble for those left behind at O'Connell.
So FIBA had no choice but to re-open Etou's file and mull the evidence.
Bad news, Junior: "This request was refused by FIBA," said FIBA spokesman Simon Wilkinson in a statement issued in response to questions from Deadspin, "and consequently the player was declared ineligible to participate as 1994-born in the AfroBasket." If he wanted to play for Congo in 2013, he'd have to play as a 21-year old. Etou did not suit up for the tournament.
"Nobody's disputing that [O'Connell] had something that said he was 18 or 19," says Farello. "But they also had all these other pieces to the puzzle of how old he really was. And the bottom line is, indisputably, there are two sets of documents for [Etou], so we know there's fraud and fabrication for one of those sets. I don't have to be the smartest guy in the room to figure out if the kid's age doesn't matter to one organization that has a set—and FIBA doesn't care at all how old this guy is—and the school has another set of documents that it benefits from, well, I can figure out which set of documents is probably fraudulent. FIBA's not accepting these new documents. So why did our league? I would honestly hope the WCAC would come together and reopen their investigation here."
WCAC teams started practicing the same day Etou's suspension was announced by Rutgers. The conference coaches annual preseason meeting was held in mid-October. Wootten didn't show.
"The one school that didn't show up in the whole league was O'Connell," says Farello. "I think Joe was too embarrassed to show up. He knows what he did."
Rutgers has tried to bury the older parts of Etou's past, too. The biography for Etou on the basketball team's web site, which lists his birthday as June 4, 1994, gives no hint that Etou ever played for his national team in international play. Every tidbit about his playing comes from after he started claiming a 1994 birthdate. Eddie Jordan coached Etou at the AAU level in D.C., and surely is aware of his overclassman's backstory. The age dispute has put Rutgers in the awkward position of wanting to downplay the accomplishments of a prized recruit.
FIBA officials say the group has not been contacted by Rutgers about Etou. Maybe Rutgers just doesn't want to know the truth. No one wants another Shabazz Muhammad on his hands. Muhammad, the former UCLA and current Minnesota Timberwolves guard, is the most recent college player found to have been fudging his age. By FIBA's count, Etou's about half a year older than Muhammad.
---
Dave McKenna is a writer in Washington D.C.