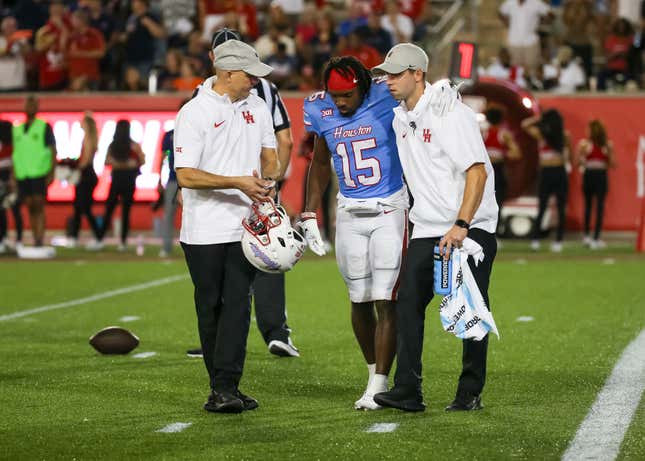 Labor Day Weekend serving as the official kickoff for college football is still the biggest oxymoron in sports. For decades, college football was the most abhorrent, openly accepted form of free labor. Unlike their basketball counterparts, NFL-caliber athletes are forced to push themselves through the meat grinder for at least three years, and more players emerge from college football with lifelong physical ailments than in any other sanctioned collegiate sport. Despite that. It's taken a bevy of legal and legislative efforts for student-athletes to profit from their own talents without incurring the NCAA's wrath.

Did Deion Sanders and Colorado deliver the biggest upset of CFB Week 1? | Agree to Disagree
Using a holiday that commemorates the efforts Americans made to ensure worker's rights as the backdrop to trot out thousands of student-athletes in front of the nation who were unable to profit financially gave us all a bad name.

On Saturday, Deion Sanders' aka IRL Rod Tidwell led an overhauled Colorado roster onto TCU's home turf and shocked last season's national runner-ups. Sanders' reorganization of Colorado's roster was the most transparent example of college football's ruthless nature. Five years ago, Travis Hunter would have worked the equivalent of two jobs in one by playing 144 snaps at receiver and cornerback in 110° heat, for free. Today, Hunter is projected to amass nearly $1.5 million in NIL money..

Meanwhile, NCAA President Charlie Baker was hired to curry political favor from Congress on national standards that would yank back the NIL advancements student-athletes have benefited from since the Supreme Court struck down the NCAA's broad and overly restrictive amateurism rules in June of 2021.

For decades, the NCAA's overlords scared the masses by painting amateurism as the glue keeping college athletics institutions together. In actuality, the college presidents are the ones who lost the "true purpose" of college athletics a long time ago. In the last month, the Pac-12 was essentially wiped from existence while the ACC formed a bi-coastal partnership with Stanford, Cal and SMU. The Big Ten manifested a college football superpower, the Big 12 stayed afloat by plucking Arizona, Arizona State and Utah from the Pac-12's sunken ship wreckage and the SEC secured their dominion over the south(west) by adding Texas and Oklahoma.

Longstanding rivalries were vaporized in an instant, tradition was deemed irrelevant and once again, television-contract money ruled supreme. However, while brand-name recruits and players have secured hundreds of thousands, or sometimes millions in endorsement deals, college football's hoi polloi are still unpaid while their schools reap the benefit of television contracts they helped procure by putting their bodies in harm's way on Saturdays.

Approximately 15,000 FBS football athletes and 1,200 college basketball players evenly distributing a portion of revenues would hardly make a dent. On a large scale, it's impractical to suggest everyone in a union that large would make bank off a share of TV revenues. Classifying athletes as employees would have unintended consequences that could do more harm than good, including forcing less profitable institutions to shut down profit-draining sports or even cut football programs, or complicate NIL agreements.

Which is why the bifurcation of Big 12, Big Ten, SEC and ACC football from the remainder of college athletics is the next logical conclusion of the sport's professionalization. The only realignment left to make in the rat race is the allocation of TV money into player's pockets. Once Pandora's Box opens, the upper echelon programs will play the winning card in their deck and dump the anchors holding them back from maximizing profit. Since the Supreme Court handed Georgia and Oklahoma a landmark 7-2 victory that stuck a dagger in the NCAA's restrictions of the College Football Association and ushered in a gilded age of television contracts, players receiving a cut of those lucrative deals has been the catalyst the NCAA has staved off.

College basketball is facing competition from the G League, international basketball and Overtime Elite. College baseball has always been marginalized by the flow of top high school talent to MLB's minor leagues. However, because college football is the only NFL developmental league available, it's the straw that stirs the NCAA's opulent drink.

A 20- to 40-team college football conference Gilded League that consolidates talent and absorbs the multi-billion dollar television contracts that a few hundred players in the Big 12, Big Ten, ACC and SEC would receive a significant annual cut of would mean no more November cupcake games against Middle Tennessee State. Every week would be a must-see. Sunday night's LSU-Florida State matchup would be a weekly occurrence. Relegations and promotions to the Gilded League would happen occasionally, but this hypothetical group would consist of the powerhouses we've been accustomed to for the past 40 years of the TV contract age.

The idea was first raised as far back as the 1950s by former Pittsburgh athletic director Tom Hamilton, who proposed inviting California, UCLA, Stanford, Washington, Army, Navy, Notre Dame, Pittsburgh, Syracuse, Penn State and Air Force to form an Airplane Conference. The proposal has been bandied about for years. Now that coaches like Jim Harbaugh have openly embraced this reality, though, we're approaching the day that this sentiment becomes tangible reality. These are the end times for the NCAA.

Follow DJ Dunson on X: @cerebralsportex