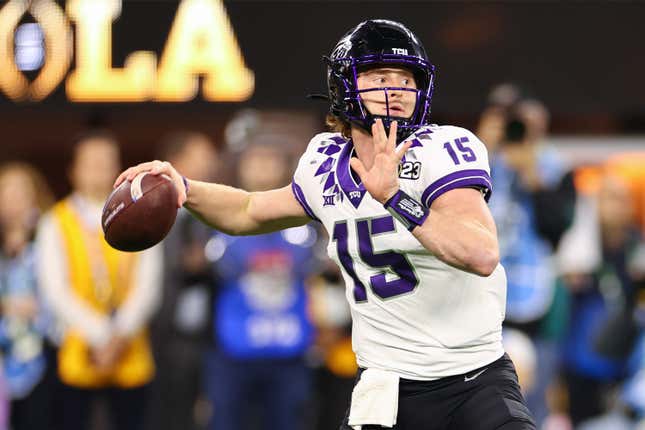 To show how unlikely TCU's run to the College Football Playoff was, at 200-1 odds to begin the season, it's worth a look at which teams currently have those same chances to be 60 minutes from lifting a national championship a year from now. According to BetOnline.ag, six teams have +20000 chances to be the 2023 kings of college football, the exact equivalent of 200-1. Each of those teams was bowl eligible this season with one even winning a New Year's Six bowl game this past season.

Top 5 football movies of the past 30 years
Next in line
The sextet of Tulane, NC State, Oklahoma State, Arkansas, Baylor, and Louisville are the oddly placed six. The Green Wave obviously stand out among that group as they defeated USC in the Cotton Bowl on New Year's Day. The Trojans had Heisman Trophy winner Caleb Williams, and without either of their two losses to Utah, they're in this year's CFP instead of Ohio State. The Cotton Bowl losers have 12-1 odds to be next season's champion. Heck, that Utah team which defeated USC twice and has star quarterback Cameron Rising coming back to Salt Lake City in the fall has 50-1 odds. Tulane is one of the six viewed to have four times as worse a chance to lift the title.
Riding the Green Wave
Tulane's route may be the most likely of the six. Cincinnati shattered the Group of Five bubble in 2021, allowing a team from the Green Wave's conference to be two games from a title. Yes, the Bearcats were clearly outclassed by Alabama. They also didn't get an ass-kicking like TCU received at the hands of Georgia on Monday night. The Bulldogs are shockingly the favorites to go for a three-peat at 3-1 odds.
Looking at the rest of that sextet, NC State had New Year's Six aspirations this season in a weaker ACC and it's truly hard to see how in one offseason the Wolfpack can get things on track. Oklahoma State's Mike Gundy is a seasoned coach who's had his team dancing around the four-team playoff a few times. The Cowboys have never stuck the landings and in a Big 12 with Texas and Oklahoma for at least one more season, don't bet on having a TCU-like breakthrough. You can discard Louisville. The Cardinals lost their head coach to Cincinnati this offseason and don't have the recruiting chops or the roster to make any type of major push. Baylor is in that same boat despite a 2021 campaign where it won a New Year's Six bowl game.

Can Arkansas make its way Razor-back to glory?
If Tulane doesn't have the most direct route to the CFP among those six, I believe it's Arkansas, purely by the Razorbacks playing in the Southeastern Conference. A rise out of Fayetteville could be similar to what we saw from Tennessee this season. A victory over Alabama cemented the Volunteers as legitimate title contenders halfway through the season. Arkansas plays almost all of the SEC's heavy hitters in the regular season and its non-annual crossover game should be a walkover against Vanderbilt. As unlikely as the Razorbacks making it to the CFP may seem now, TCU's odds were the exact same before its Cinderella chase.