Our weekly college football shame index.
The Weekend in Shame
Miami 42, Georgia Tech 36 (OT): Fans of both teams had plenty of cause for disgust, but Georgia Tech lost so let's gather around the fireplace and marvel at the numbers Miami hung on the Ramblin' Wreck. First, there are the passing yards—specifically, the 436 yards that Miami quarterback Stephen Morris racked up. The last Hurricane to throw for 400 yards in a game? That would be Ken "Kid Ticklish" Dorsey in 2002, who currently works for the Carolina Panthers making sure that Jimmy Clausen never figures out how to read.
Then there was Georgia Tech's yardage—a meager 53 yards in the first quarter as Miami jumped out to a 19-point lead, an explosive 196 in the second quarter, and 144 in the third when Tech counterpunched by scoring the next 36 points, and then a sad-Price Is Right-horn 47 in the fourth quarter. Do you know what that all turns out to be? A BELL CURVE BECAUSE GEORGIA TECH'S JUST A BUNCH OF STUPID NERDS.
Finally, this was the fourth overtime game of Paul Johnson's career at Tech and the third overtime loss. In all those overtimes, the Yellow Jackets have managed only nine points total, which is especially limp considering that in the ACC you get two points per overtime session just for signing your name.
The temptation in a game like this is to point to a key turnover or blown assignment or unconverted third down as the difference separating winner from loser. Normally, I'd steer you away from that temptation. But, normally, kickoff returns don't turn into absurd safeties.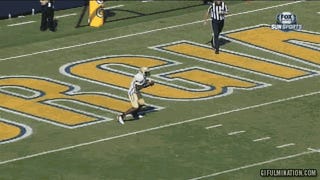 Beautifully done, sir.
Michigan State 23, Eastern Michigan 7: Were you only to look at the final score here, you'd think Michigan State was pretty bland but in control throughout this game, and you would be sincerely wrong. This was an 0-3 MAC team coming into Spartan Stadium facing a Michigan State team that had just been embarrassed by Notre Dame. Sparty was looking at an opponent giving up 40.3 points and 312.3 rushing yards a game.
So they promptly converted on only one of their first 11 third downs, crossed the 50-yard line only once in the first half, and needed 96 fourth-quarter yards from Le'Veon Bell, who's on pace to carry the ball 351 times this year. That would be eighth-most all time—supremely B1G and probably just fine with Spartan fans. But! The but is that Andrew Maxwell and his receivers cannot stretch the field at all. Maxwell didn't complete a pass over 16 yards until the fourth quarter, and MSU is tied for 73rd in the nation at completions of 25 yards or more. Their illustrious company at that rank includes Kansas, UAB, Buffalo, and Navy, which is also a list of Football Programs Ideal For Those Eager To Avoid Media Attention.
Please don't take this to mean that I have a problem with GameDay going to East Lansing next weekend. That's a perfectly acceptable programming decision, so long as they get Tom Sizemore as the guest picker. EXCLUSIVE PREVEW! Here are a handful Mr. Sizemore's predictions:
• Baylor over West Virginia
• Miami over NC State
• Tennessee over Georgia
• Louisiana Tech over Virginia
• Iowa State over Texas Tech
Can you deduce the common element behind all of these selections? Scroll to the end to find out the answer!
Elsewhere in Shame
Syracuse has lost to Northwestern and Minnesota. Syracuse has also stayed within a touchdown of the two Big Ten teams currently in the best position to make the national championship! This is the power of positive thinking, unless Minnesota does make the national championship, because that means at least 43 states in the continental U.S. have detached from Earth and drifted off into space.
After losing to Rutgers 35-26, Arkansas has three home losses. The Razorbacks still have to host LSU in November. The last time Arkansas lost four home games was 1996. What I'm trying to tell you is that whenever the Summer Olympics are held in a primarily English-speaking country, Arkansas is terrible.
Michigan got through its first 21 offensive plays without a turnover. Five of the next 12 Wolverine plays were interceptions. Coincidentally, out of every 12 Michigan students who claim they got into Harvard, only five actually did.
Auburn's Kiehl Frazier is an absolute calamity. Through four games, he is getting 6.1 yards per passing attempt. There are 100 quarterbacks with a better average than that, including Florida Atlantic's Graham Wilbert, Colorado's Jordan Webb, and Wisconsin's Danny O'Brien. I'm going to start telling people that Kiehl Frazier has never completed two consecutive passes, not even in NFL Blitz. I dare someone to call me on it.
The Week Ahead in Shame
Most everyone seems fairly unimpressed with the scheduled games this week, but there is intrigue to be found if you look! Example—either Duke or Wake Forest will have four wins and the loser of Oregon State-Arizona will not. Here are three off-the-radar games you should pay attention to:
Louisiana Tech at Virginia: Tech has the third-ranked scoring offense, having put up at least 50 points in every game so far. Virginia's defense has allowed more points per game than Washington State or Kentucky. Fun fact! The Bulldogs haven't started 4-0 since their 1975 season under Coach Maxie Lambright, who was also the school's athletic director. This is your opportunity to imagine Tommy Tuberville, Texas Tech head coach, bribing Tommy Tuberville, Texas Tech athletic director, to prevent him from firing himself.
Miami at N.C. State: In two weeks, the Hurricanes play Notre Dame, and the Wolfpack get Florida State. Could this be the rarest of birds, a DOUBLE trap game? The answer is no, because Tom O'Brien has never been trapped. To trap you have to trust, and the N.C. State coach learned long ago never to trust anything. He'll never forgive you for betraying him, 1% milk that was clearly two days short of the expiration date but had still gone sour.
Arizona State at Cal: The Bears under Jeff Tedford have always made it to October with at least two wins, a streak that will end if they can't take down the Sun Devils, who are giving up only 139 yards a game through the air. It does not help matters that only Colorado and Colorado State have given up more sacks than Cal. There is good news, however—a Cal victory moves Jeff Tedford into a tie with Jimmy Johnson on the all-time coaching wins list. Could two careers be more parallel? I posit that they could not.
ANSWER TO TOM SIZEMORE TRIVIA QUESTION: These are all the names of prostitutes Sizemore has paid in counterfeit currency.
Celebrity Hot Tub is a college football fan who lost the ability to truly love thanks to three years of Florida head coach Ron Zook. He writes for Every Day Should Be Saturday. Follow him on Twitter @celebrityhottub.