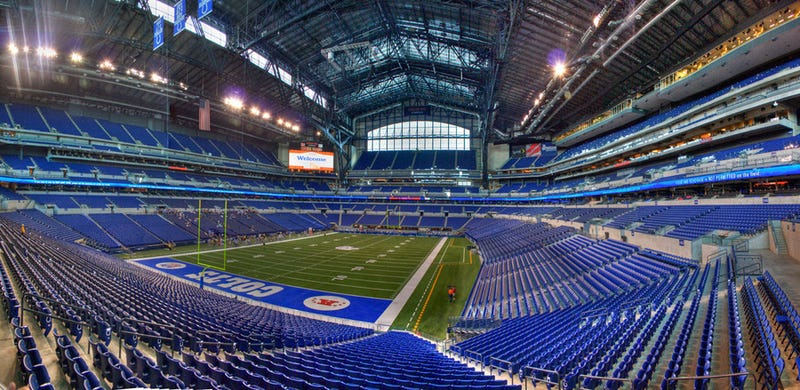 Disaster mostly averted: Of the three teams facing the prospect of local TV blackouts for their wild card playoff games, two have achieved sellouts—sort of—and the third appears close. And it's all thanks to the benevolence of corporate America.
The Colts, Packers, and Bengals all appeared set to miss their Thursday deadlines to sell out, which, as per the NFL's horrible rules, meant the games could not have been shown in local markets. But all three teams received 24-hour extensions from the league. This morning the Colts announced that they had sold out, and the Packers followed suit. The Bengals haven't given an update on the number of tickets remaining, and their deadline is at 4 EST.
For Indianapolis and Green Bay, it wasn't a last-minute rush of fans. Instead, it was the teams' corporate partners, stepping up to purchase large blocks of tickets. Though the NFL uses the blackout rule to all-but-guarantee owners high attendance rates, the league very much wants to avoid the embarrassment of TV blackouts. In the regular season, it gives teams an out: They can purchase remaining tickets themselves for 34 cents on the dollar. But in the playoffs, that's not an option. Tickets must be sold for full value, and if the teams aren't willing to buy them themselves, they can find companies who will—perhaps in exchange for some favorable advertising rates in the future.
In Indianapolis, it was hypermarket chain Meijer buying the largest block, 1,200 tickets. In Green Bay, it was a group of corporate partners, led by Associated Bank. In Cincinnati, which hasn't announced a sellout yet, Kroger supermarket has bought "hundreds" of tickets, and several local business have bought smaller blocks. In most cases, these tickets will be donated.
It's a happy ending, in that some deserving families will receive free tickets, and local fans will be able to watch their teams on TV. That doesn't change the fact that the blackout rule is evil. (Bill Wirtz is considered one of the worst owners the NHL has ever known, and fans literally celebrated his death. His crime? Doing essentially what the entire NFL has done for 40 years.) The NFL makes an enormous amount of money from its television contracts, so forcing a fanbase to buy half a million tickets a year just to watch on TV is just double-dipping. In the case of Indianapolis and Cincinnati, where the teams are playing in stadiums that taxpayers are still paying for, it's triple-dipping. Fans just want to watch some damn football; the NFL doesn't make it easy or cheap.