Comcast is vowing to catch the saboteur who spliced porn into the Super Bowl broadcast to some 80,000 subscribers in the Tucson area on Sunday. But in the meantime, here's a $10 coupon. Porn credit!
"We can't undo what happened, but we remain deeply sorry for the impact this situation has had on our customers," Comcast Tucson corporate affairs manager Kelle Maslyn said in a statement Monday. "To that end, we will be issuing a $10 credit to any Comcast video customer in Tucson who was impacted. While this credit won't change what happened, we hope that it will demonstrate to our customers, and to the Tucson community, how seriously we are taking this situation."

Maslyn said Comcast is "continuing with our investigation into what we believe may have been an isolated, malicious act, and will aggressively pursue all leads until we come to resolution." Comcast customers in the Tucson area seeking the credit were directed to call (888) 315-8219.
Interesting take on this by Valleywag, by the way, which says that people shouldn't be surprised by any of this. After all, Comcast is one of the nation's leading purveyors of porn. Although I can't agree with their assertion that people are "pretending to be outraged." The outrage is real enough, it seems.
G/O Media may get a commission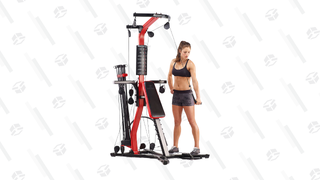 31% Off
Bowflex PR3000 Home Gym
My favorite comment today so far:
Comcast will fix this issue between the hours of 8am-5pm. Please stay home and wait... — John7294
Meanwhile, for you computer geeks tech enthusiasts, here's a more involved explanation of what happened:
The feeds provided by local broadcasters, like KVOA-TV in Tucson, are basically on autopilot when they're handed off to the cable company. The only conceivable modification a cable provider might make to a broadcaster's signal would be to "downconvert" an HD signal into lower-definition format for 4:3 standard-def distribution. This is happening or has happened in many markets where the broadcaster is going all-HD in preparation for the still-uncertain digital TV transition. (For cable networks, by contrast, a local cable system might insert its own ads into the video stream at predefined points.)

Also note that the porn that showed up on KVOA was from Playboy's Shorteez, a pay-per-view channel that normally requires a digital set-top user to initiate and confirm the order (since it's added to a customer's bill).
Or in other words, prevailing wisdom right now is that someone intentionally broke in on Larry Fitzgerald's touchdown celebration with a giant peen. Cardinus Interruptus. But who? And will he ever be caught? Or just maybe we should be searching for a she. It is well known that Jenna Jameson is hungry for Super Bowl-related publicity; she tried and failed to participate in last season's Lingerie Bowl (she was denied a roster spot because she couldn't get insurance to play football). Perhaps this was her terrible retribution.
Super Porn Gaffe: No Accidental Fumble [Multichannel News]
Comcast 'Has Some Leads' In Super Bowl Porn Incident [Tucson Citizen]
Comcast Offers $10 Credit After Super Bowl Porn Blunder [Multichannel News]