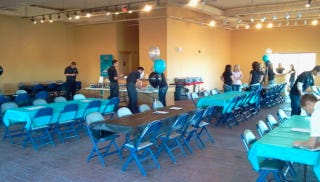 The NBA D-League is hosting its 2011 draft tonight, on the third day of what would have been the 2011-12 NBA season, and the Sioux Falls Skyforce is hosting a draft party in what appears to be the local high school multipurpose room! They started popping bottles at 5:45 this evening. Don't get too crazy tonight, Skyforce.
The draft is onto the fifth round now, but the biggest name is already off the table: Former Pacer-Grizzlie Jamaal Tinsley was selected first overall by the Los Angeles D-Fenders. The Skyforce used their first pick of the evening for one-time Celtic Gabe Pruitt. You're invited to follow along on the live draft board, or with the Skyforce's Twitter feed, which you might find more endearing.
And if you happen to be at the draft party, please let them know.
Photo via.
*****
Thanks for your continued support of Deadspin. Have a lovely night.