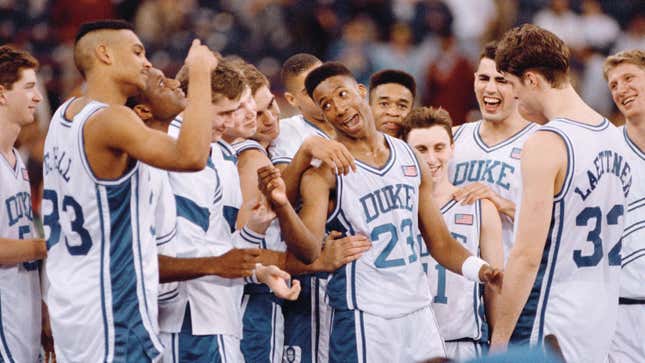 Instability is the core tenet of the Washington Commanders' Dan Snyder era. It's only appropriate that the jankiest, messiest, reprobate of a team owner in modern NFL history ends his tenure with a tinge of chaos. On Thursday, reports blasted throughout the league that Snyder had agreed to a non-exclusive, fully-financed agreement on a $6 billion bid from the esteemed group led by billionaire private equity serpent and Philadelphia 76ers owner Josh Harris, billionaire philanthropist Mitchell Rales, and the winning reputation of Magic Johnson.
The Disappearance of John Brisker | Sports Mysteries
However, that may not be the end of it after all. What should be a time of celebration has descended into a wait-and-see period as conflicting reports have emerged casting doubt on the inevitability of Harris becoming the next Commanders team governor. According to WUSA9's Darren Haynes, a sleeper bid made on March 21 by former Duke forward, NBA reserve, and self-made businessman Brian Davis may have the momentum to undercut Harris' group at the 11th hour.
Since 2007, Davis and former Duke teammate Christian Laettner have been the founding partners of the holding company that owns and operates the MLS' D.C. United. However, D.C. United's valuation is a tenth of what Davis is reportedly bidding on the Commanders. And curiously missing from Davis' background is any mention of him being a billionaire. That sounds harsh, but typically that is the preeminent criterion for infiltrating the exclusive club of principal NFL team owners unless your dad founded the franchise or bought the organization before the price of doing business with the NFL skyrocketed. At the end of 2022, only 14 Black billionaires existed in the world. Most are recognizable names and the others were disinterested in buying into the NFL's old boys' club or were spurned by Snyder, as was the case for Jay-Z, who was also connected to Bezos' bid.
$7 billion and a prayer
A source informed Haynes that Davis accrued the capital for a late $7 billion cash offer to purchase the Commanders by selling his intellectual property as CEO of Urban Echo Energy, which advertises itself as the first LEED-certified green developer of renewable assets in America, which private investors realized is worth $50 billion in total. Those are some wildly hyperbolic claims.
That's just one of several red flags in Davis' bid. For one, it relies on a layaway plan in which Davis would front $1 billion immediately and $6 billion within seven days. When contrasted with the fully-financed bid from Harris' group, Davis shouldn't have a chance, which is why he offered an extra billion and offered to indemnify Snyder from future civil litigation stemming from alleged malfeasance during his stint as owner.
Past is prologue for Davis here too. In 2006, Davis' bid to buy the majority share of the Memphis Grizzlies would have made him one of the youngest team owners in NBA history. Then-owner Michael Heisley agreed to sell his 70 percent controlling interest in the Grizzlies to a consortium led by Davis and Laettner for $360 million. However, their inability to come up with the money sank that deal.
Seems like a stretch
It's a little hard to believe that this will be any different — Front Office Sports business reporter A.J. Perez has insisted that Harris remains the bid Snyder plans to finalize. However, nothing is set in stone, and when it comes to Snyder nobody ever knows what's truly going on in his twisted head.
There are only three ways this can end. Either Snyder accepts the initial bid from Harris and disappears from the sightline of Washingtonians forever or he drags this out, the offer from Davis turns out to be legitimate or the financials disintegrate under scrutiny, and the whole thing is exposed as a means for Davis to drum up support for his fledgling green energy company. Brian Davis could be a glorious underdog story. It could also go horribly wrong leaving the Commanders owned by a shadowy figure who may or may not have spread his bank account too thin competing against the Denver Wal-Marts, Jerry Joneses, and Stan Kroenkes sports ownership empires.
Whether Davis has the remaining $6 billion in six days or two months or not, it would take a leap of imagination for the potential winning bid to be made by an individual, who didn't have the balance sheet to buy the Grizzlies, 17 years ago, was short on funds to buy the Commanders a few months ago, but is now paying a surcharge to buy his hometown team on layaway. Gone are the days when a John Spano type could scam their way into purchasing a pro franchise without the wherewithal. The NFL's finance committee will ultimately have to approve the final sale, but the Commanders need a sure thing.
Revamping the Commanders goes beyond rebuilding the roster, improving front office infrastructure, and making sound hires. They also need to curry favor with local politicians and build a life-sized stadium inside the cramped nation's capital after Snyder's mothballed proposal had the Commanders moving into a miniature stadium in the hinterlands of Northern Virginia. These endeavors will get expensive. Nothing is ever easy in Snyder Land. Not even leaving.