Wednesday's Mexico-Panama Gold Cup semifinal was an ugly affair, with Mexico winning 2-1 after being the beneficiary of bogus red card and penalty calls. The refereeing was so poor that even Mexican newspapers admitted the game was a sham.
This morning, CONCACAF president Alfredo Hawit released the following statement:
We met with both the Referee Department leadership and referee Mark Geiger. Mr. Geiger, one of the best regarded referees in the region with vast international experience and a proven track record, accepted that officiating errors had been made during Wednesday's match and that these impacted the outcome of the game. We at CONCACAF regret these circumstances but accept that such human errors are part of the game.
The first thing to notice is the hilariously passive and blame shifting "errors had been made" construction, as if the errors hadn't been made by referee American Mark Geiger, but by somebody else. It bears a striking resemblance to Washington, D.C.'s favorite non-apology apology: "mistakes were made."
The other thing this statement attempts to do is half-heartedly defend Geiger, before throwing him under the bus. Yes, he got two crucial calls wrong, but poor refereeing is endemic across CONCACAF. After all, Mark Geiger wasn't the referee who called the other bullshit penalty that won Mexico a game this tournament, that was Guatemalan referee Walter López. And these are hardly the first instances of poor refereeing in important CONCACAF matches; it's practically assumed at this point.
G/O Media may get a commission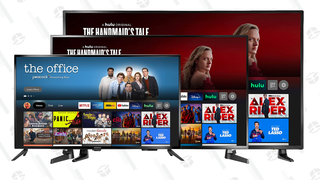 Up to 44% off
Prime Early Access - Insignia Fire TVs
Meanwhile, both the Costa Rican and Panamanian football federations have launched official protests, which CONCACAF promises they will look into. I wouldn't hold your breath expecting CONCACAF to actually do anything, of course.
Yesterday Panamanian Football Federation president Pedro Chaluja went farther than just alleging referee error, and raised the specter of match-fixing. Via Grant Wahl:
"We perceive that this match was manipulated, and not by the Mexican federation, but there are interested third parties," said Panama FA president Pedro Chaluja. "The bad refereeing decisions were deliberate and with the intention of protecting the third parties. These events can only be decrypted if FIFA and CONCACAF join together to carry out a thorough investigation into the development that referee Mark Geiger was so unfavorable and ended up robbing the victory and the dreams of all Panamanians."
The thing is, the idea that there would be match-fixing during the Gold Cup isn't that crazy. In all likelihood matches were fixed at the 2011 Gold Cup, and at the 2013 edition members of the Belizean team were offered a bribe to tank against the United States. Add in the fact that former top CONCACAF execs like Chuck Blazer (plead guilty to racketeering and other charges) and Jeffrey Webb (currently facing corruption charges) took money (allegedly, in Webb's case) for specific votes and steering contracts to certain companies, is it really so hard to believe that in one of these matches Mexico benefitted from more than just bad refereeing?
---
E-mail or gchat the author: kevin.draper@deadspin.com | PGP key + fingerprint