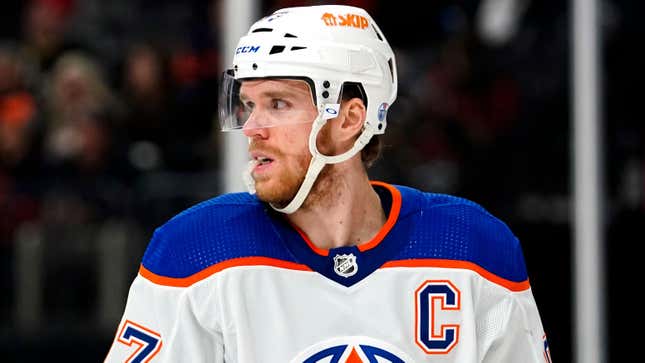 Every generationally great player, or every player that can safely say they're one of the five best of all time, eventually bores the public with their greatness. Or at least fails to spike the EKG when news of their latest heroics crosses the wires. Connor McDavid is there.
What can make the NHL more exciting?
McDavid racked up his 140th point last night, He has 60 goals with eight games to go. Years ago, when Alex Ovechkin or Steven Stamkos or Auston Matthews were chasing 60, it was a big deal. Something to follow and track. McDavid does it and it's more of a, "Oh, well of course he did." It's only the fourth 60-goal season of this century, and McDavid has a pretty good chance of eclipsing Ovi's 65 goals done 15 years ago for most goals this century in a season. His 140 points are already the most this century by 12 points, and he'll still put some distance on that mark yet. There have only been 24 seasons of 140 points or more in the entire history of the league, and he's only the 10th player to do it (it's hilarious that Bernie Nicholls is on this list, not that Pumper wasn't a boatload of fun).
And we shrug. McDavid has been so far above the rest of the league for years now that it was always a given he was going to put up bonkers numbers that we haven't seen since all the goalies were all drunk and 5-6 and most every defenseman skated like they'd just shit themselves (and some of them had). Speed is the easiest thing to notice in hockey, and that's what always jumps out about McDavid during a game. But no one has ever used that kind of speed in such a merciless way while combining it with hands and vision that can unlock any safe or trap.
In reality, McDavid's binge this year can be attributed to going Ham on the power play, where he's potted 21 goals and 64 points already, blowing his career highs to Kingdom Come, wherever that is. His metrics at even strength are about where they've always been. It's not just a higher percentage of his shots on the man advantage going in, which is also happening, but McDavid has seen an explosion of shots and chances as well. While most of his shots are still coming from the same area, the Oilers' power play overall has simply become an amoeba, with McDavid zig-zagging all over the zone and being impossible to either pick up or pick up without leaving someone else completely naked. The Oilers are especially dangerous on the power play when things get scrambled, i.e. after a blocked pass or shot. Because they're in constant motion-Ryan Nugent-Hopkins and Zach Hyman are hardly slow–the Oilers are more likely to win races to loose pucks and with the penalty killers out of shape, Leon Draisaitl is always going to pick them apart with his unmatched passing skills.
That and three bucks gets you on the train
But that isn't the talk when it comes to McDavid, though it's more muted than you might find in other sports. In hockey, it's more generally accepted that a player can't win a Cup on his own, except for maybe a goalie. Much like Mike Trout, and now Shohei Ohtani, McDavid's lack of playoff success has been seen as his team failing him rather than the other way around. And for the most part, that's been true.
But McDavid got a taste last spring when he and Draisaitl went plaid and dragged the Oilers to the conference final before getting dong-whipped by the Avs. Perhaps that's the fate that awaits the Oilers again, but McDavid may never find a Western Conference so ready and so available to be run through by just one or two players together.
The Oilers' path likely starts with the L.A. Kings. And while they may not be as bad as one vindictive (though handsome) writer claims, there is not much special about them either. There may have been a time when Anze Kopitar would have had a chance to at least slow McDavid, but not at 35. Phillip Danault is one of the better checking centers around who can also score, but we also saw this last year and the Oilers prevailed. The Kings are still counting on Pheonix Copley in net as well. Ok, yes, the Kings have already gone 2-for-2 against the Oilers this year, but we defy you to be impressed by anything in black and silver this year.
From there, it's likely the Vegas Golden Knights, who just had their starting goaltender leave a game injured (Logan Thompson) and they don't know when he'll be back. Their best player, Mark Stone, just had a backiotomy. They may have the most points in the West. They're also completely there for the taking. Jack Eichel isn't that guy until he proves he is.
Then it's whoever comes out of the Central, and for all the noise and mystery of this season, that's still likely to be the Avalanche. Except they don't have Gabriel ThreeYaksAndADog (Landeskog) and no one's sure they will. They've been ouchy all season, with only six players suiting up for 70 games or more so far this season. Maybe that means they'll be rested, maybe it means the mileage from last season's Cup run is taking its toll. Maybe it could be the Stars, and Jake Oettinger is the kind of goalie who can win a series on his own. But the Stars are also, essentially, one line and one d-man in Miro Heiskanen. Name a player on the Minnesota Wild other than Kirill Kaprizov and you'll have admitted to a life of loneliness and desperation.
The West may never lie down like this again. The Avs will be healthy again come springtime at least once more in the near future. The Knights might be one day too, assuming they can keep convincing the NHL to not have the salary cap apply to them. Projecting out a little further, Connor Bedard has an excellent chance of landing in the division either in San Jose or Anaheim. Someone always surprises.
Does that mean the Oilers aren't afflicted as they usually are? Of course not they're flawed as fuck! Neither Stuart Skinner nor Jack Campbell has been able to stop a Christmas ham all season. Their defense, while recently greatly buffeted by the acquisition of Mattias Ekholm, has been the world's worst velvet rope this month. And yet they've still gone 10-2-1 in March because McDavid and his cronies are just outsourcing their problems.
If ever there was a playoff season where a team like the Oilers could simply Smash TV their way out of the conference, it's right here. Every team is flawed, hurt, or both. Hockey isn't supposed to be a sport where one player can carry a team through all. But this isn't all that much to carry through for McDavid.