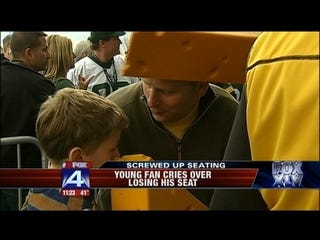 This young cheesehead cried (video here, H/T reader Patrick) when he, along with 399 others, could not get into last night's Super Bowl. He cries for the others, young and old, left out in the Arlington cold. They will leave Super Bowl XLV with $2,400, tickets to next year's Super Bowl, and nothing. It's about the concessions! Here are the faces of Roger Goodell's America.
"Quite frankly, there are fraternity parties that run better than this event." [WFAA]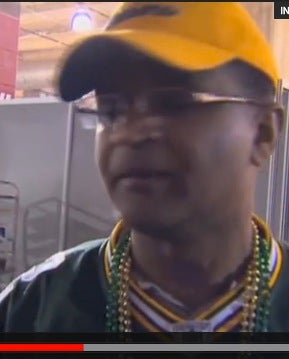 "We flew all the way in from Green Bay for the game. This is ridiculous. Poor customer service, the worst thing you can see." [Sports Illustrated]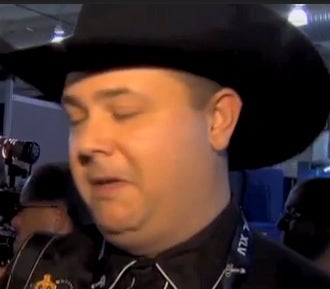 "I want to cry, I want to vomit, I want to start a fight." [CNN]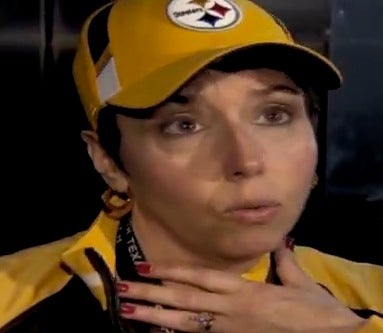 "It was terribly mismanaged… we're just beside ourselves. I just can't see a positive outcome." [CNN]
"No seats!" she screamed, to anyone who would listen. [Sports Illustrated]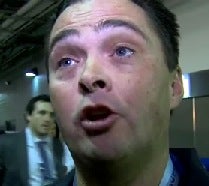 Ray Summeier, of Indianapolis, is kind of great. Among the things that really upset him: he wasn't able to buy popcorn and nachos in the stands. There's no replacement for that, he said.[USA Today]
"I don't know who's all in charge of this, but I never want to come back to Dallas Stadium." [CNN]
This kid did not cry. Good job, kid.
Nor did you, half-Steeler, half-Cowboy. Nor did you.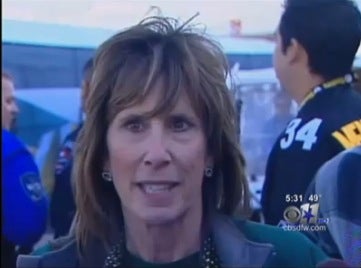 "We drove from Green Bay, Wisconsin, through bad weather, and we can't get in. They're holding 'em like animals. Like cows." [CBS 11-DFW] [Point: Those Fans Without Seats Are Being Whiny Babies]