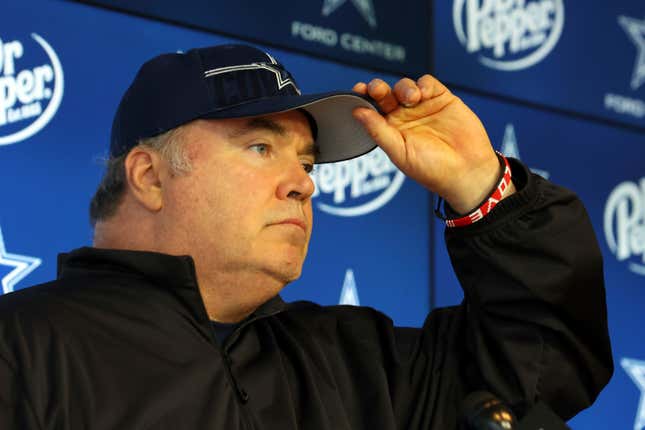 When it comes to athletic competition, we all love a good ranking. It doesn't matter what it is, whom we're comparing, or what's at stake. It always catches our attention whenever a list is released, ranking players, or teams 1 through whatever. You can triple the attention any ranking list will receive regarding the NFL. In a recent ranking of all 32 NFL head coaches, Dallas Cowboys head man Mike McCarthy came in 17th, which isn't all that surprising but somewhat damning.
In fact, McCarthy finished third among coaches in the NFC East, as Nick Sirianni (Eagles) and Brian Daboll (Giants) ranked in the top 13. Let's not forget the Cowboys did come in second place last year in the division ahead of New York and swept the season series against the G-Men. Talk about getting absolutely no respect; that's been McCarthy during his entire stint in Big D thus far.
After an abysmal first year where the Cowboys lost 10 games under McCarthy, the Super Bowl-winning head coach and his team managed to bounce back, improving to 24-10 over the last two campaigns, and winning a division title in 2021. But we all know that isn't the measure of success for Dallas. Cowboys' nation is about winning and at least competing for championships. These fans are thirsty for more than a divisional-round elimination.
At this point, that could mean the NFC title or Super Bowl. After all, beggars can't be choosers. Sometimes expectations can become unreal, which is where the Cowboys have dwelled for going on three decades. The divisional round has been the bane of Dallas' existence for a very long time. No, NFC Championship appearances since the '95-96 season.
McCarthy isn't going to change that. Neither will Dak Prescott. The defense is outstanding, but the days of living off a dominant defense, and winning Super Bowls are over. It's not that McCarthy isn't a good coach. Despite having won a championship, that's his ceiling. He's just a good coach, not a great one. The same can be said for Prescott. He's good, not great.
So, it's hard to find much issue in the fact that McCarthy ranks so low on this list. Someone will inevitably find an issue in this, but if he was that "great," there would never have been talk of defensive coordinator Dan Quinn replacing him.
Let's keep it real. McCarthy is one of the luckiest coaches in NFL history. He had two Hall of Fame MVP quarterbacks back-to-back in Green Bay. McCarthy inherited Brett Favre and Aaron Rodgers when he became head coach of the Packers in '06. That doesn't mean he hasn't been a good coach, but it can also be said McCarthy should've won more Super Bowls based on those QBs, and overall talent on many of those teams.
The bottom line is McCarthy is who we thought he was. A middle-of-the-pack coach on a team destined to disappoint its fans each and every season.