Croatia-Denmark opened with a bang. Denmark used a mighty throw from Jonas Knudsen to set up what was frankly a panicky, little-league-ish scramble in the box, leading to a charmingly fluky goal from Mathias Jorgensen, helped along by Croatian keeper Danijel Subasic. This was in the first minute of action:
Less than three minutes later, Croatia struck back with their own hilariously ragged attack and fluky finish. This time it was Ante Rebic gathering a nifty pass in the area and whipping a low cross directly into the feet of a Denmark defender, whose hasty clearance smote his own teammate in the face. The ball ricocheted directly to Mario Mandzukic, who volleyed it in from point blank:
The match continued more or less in this frenetic fashion through the rest of the first half, but action slowed considerably in a tense and foul-packed second half. These bozos could do no better than a 1-1 draw in regulation, but unlike Sunday's earlier result, both teams at least have the excuse of not being Spain.
The next best chance to prevent a penalty shootout came late in the second extra period, when Rebic was brought down in the box and Croatia were awarded a penalty. This was The Moment for Croatia: Luka Modric taking a penalty in the 116th minute of an otherwise sloppy match that never seemed all that likely to produce a goal in the regular course of play:
G/O Media may get a commission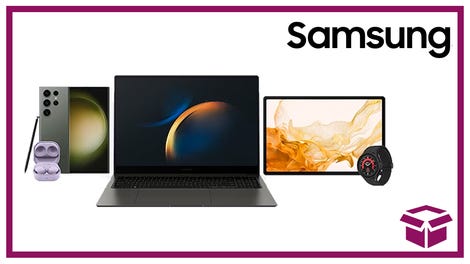 24 hour deals
Discover Samsung - Daily Deal
Stoned! And that was a nice preview of the penalty shootout to come. Listen. Penalty shootouts mostly suck. It's lame and disappointing that a game with open play and careful teamwork and whole tidal shifts is ultimately decided by rigidly structured and wildly unbalanced one-on-one contests that bear little resemblance to the sport's core action. The exception to this rule is when keepers step up and make clutch saves and the shootout has at least the feeling of a fair competition.
And that's what happened in the Croatia-Denmark shootout, right from the first try:
This was great. Subasic and Denmark keeper Kasper Schmeichel traded saves on the opening kicks, then again on the fourth tries. It came down to Subasic making a heroic kick save against Nicolai Jørgensen on Denmark's final try, and then Ivan Rakitić scooting one by Schmeichel on the subsequent final kick for Croatia.
Croatia will now face Russia in the quarterfinals, where their sacred duty to all humanity is to win by several dozen goals.