Heritage Auctions has posted a preview of an eagerly awaited lot—a bloodstained sock worn by Curt Schilling as he pitched through injury to lead the Red Sox to their first World Championship in 86 years. But before you go taking out a second mortgage, know that this isn't the one from Game 6 of the ALCS, when Schilling dominated the Yankees. This is another one that nobody knows or cares about, because the ALCS one got thrown in the trash.
The best sports movies according to Toheeb Jimoh
Schilling, who's being forced to sell memorabilia to pay back loans for his shuttered video game company, probably wishes he still had the important sock.
It's actually the citizens of Rhode Island who are on the hook for the failure of 38 Studios. Schilling's company moved to Rhode Island in 2010, lured by a big fat taxpayer-backed loan from the state's Economic Development Corporation. Mismanagement on all sides sent 38 Studios under before they could complete a single game, and with interest, Rhode Island is out around $112 million.
G/O Media may get a commission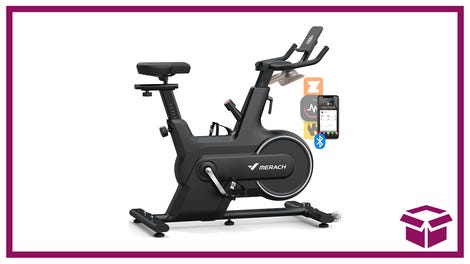 14% off + Coupon
Merach Indoor Cycling Bike
Many of the studio's loans were personally guaranteed by Schilling, in part through collateral including his extensive memorabilia collection. With an agreement reached in September, Schilling is bound to auction off his items to repay lenders. It looks like it's about to happen, starting with the sock.
Bidding on the bloody sock begins Feb. 4. Here's the somewhat-overwrought item description.
The otherwise nondescript white tube sock remains mounted to its original backing from its Cooperstown display that centers the dark splotches of blood for viewing, a Rorschach test that reads as "bliss" to millions of New England baseball fans. Check the game tape and you'll recognize the patterns, if you haven't already committed them to memory. Noted 18th century economist Thomas Paine famously wrote, "That which we acquire too easily, we esteem too lightly." There's no such danger here. Sweat alone couldn't break an eighty-six year Curse. Like any great and glorious victory, there had to be blood.
Yeah, "Cooperstown." The sock had been on display in the Baseball Hall of Fame, but Schilling was able to get it back to settle his debts.
As we pointed out, this sock isn't the famous one from the game against the Yankees. That sock was "unceremoniously discarded in a Yankee Stadium dumpster." But Schilling started Game 2 of the World Series against the Cardinals, and again bled through the fabric. It's that sock that's up for auction. How much might it bring in? Darren Rovell estimated between $600,000 and $1 million. That's a nice chunk of change, but compared to the amount Schilling's on the hook for, it's still just change.