Curtis Granderson has had vision-related issues before. When he was traded to the Yankees, he soon discovered that he had 20-30 vision and quickly began wearing contact lenses. This year, Granderson had an absolutely wretched postseason. He had three hits in 33 plate appearances and struck out 16 times. Whereas the Yankees determined that Alex Rodriguez could not hit right-handed pitching and benched him—instead of, say, sending him to a gynecologist—the Yankees have gone out of their way to make some kind of weird, recycled excuse for Curtis Granderson.
"They said, 'Your vision is 20/30, so let's see if we can improve it,' " Granderson said at the time. "For most people, they'd let it go, but since we can possibly make me see better to hit, who knows? We'll see."
Granderson, who turns 32 in March, struck out 116 times in 2010, his first season with the lenses. That number rose to 169 last season, then ballooned to a career-high 195 this year. He also was 3-for-30 with 16 whiffs in 30 postseason at-bats.
Curtis Granderson's strikeouts became a hot-topic mostly because his batting average dipped to .232 this year. To people who consider batting average important, and think strikeouts are the devil, this was the talking point. Such a low average and all those strikeouts? And now it all makes sense. His eyes are messed up and he probably can't tell balls from strikes. No wonder he's striking out so much! If we can stop the strike outs we can get that average back up to respectability and really appreciate all those home runs.
If only it were that neat. Curtis Granderson has never walked more in his career than the last two seasons with the New York Yankees (85 and 75, respectively). He's also never hit more home runs (41 and 43, respectively). He has a career BAbip of .305 and this year it was .232 .260—the worst of his career. So, your choices are an unlucky slump or bad eye sight (except when it's not bad).
G/O Media may get a commission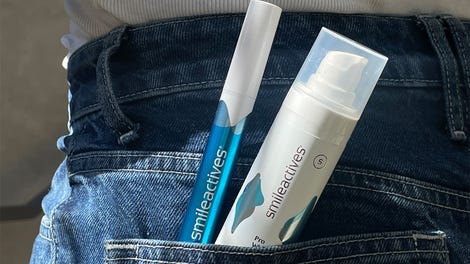 58% off
Whitening Powerhouse Pen & Gel Duo
O_o.
Source: Yankees outfielder Curtis Granderson to visit eye specialist after strikeout-heavy season [NY Daily News]