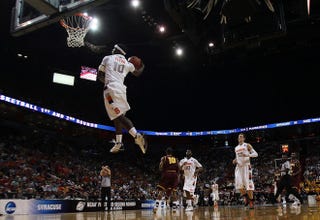 In the early game appetizer, third-seeded Syracuse had relatively little trouble getting rid of sixth-seeded Arizona State, thus earning the right to be featured in an awful headline pun.
The win was career victory 799 for Orange coach Jim Boeheim (not to be confused with orange coach Bobby Knight), who will try for number 800 against Oklahoma next Friday in the Sweet Sixteen. What else is going on, your television-less self asks? Well, Pittsburgh is in very tough against Oklahoma State (but Oklahoma State's Byron Eaton just left the court in a heap o' pain), Kansas is up six against Dayton at the half, Arizona is pushing around Cleveland State, and Xavier is down two to Wisconsin at the half.
To the fridge, everyone!