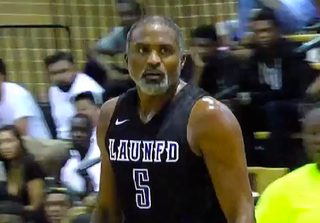 Back in 2008, Cuttino Mobley retired from the NBA after discovering he had hypertrophic cardiomyopathy in his heart. Since then, he's grown a gray beard, so he looks ancient even though he's actually 39 years old.
Mobley's appearance as a much older man adds a fun twist when he makes buckets or blocks shots on the court, like when he played in the Drew League this past Sunday:
Who let that AARP member play? Just kidding!
Here's a photo from 18 weeks ago, where Mobley has a much fuller beard:
There appears to be no reason to be concerned for Mobley. He's just a guy who's accepted a gray beard early in life. You're pulling it off well, Cuttino.
---
Contact the author at samer@deadspin.com.