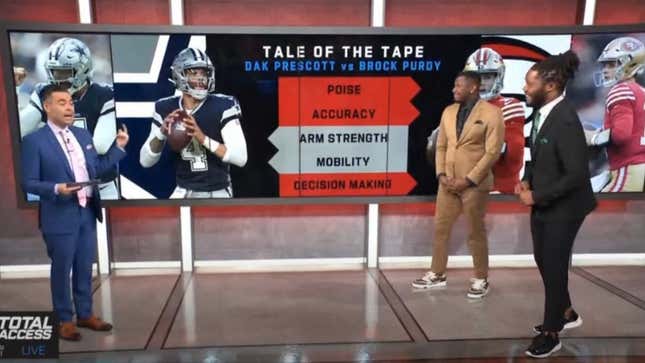 I understand that the content must be constantly shoveled into the furnace known as the 24-hour news cycle. That's a lot of wood to keep on fire, especially when dealing with live television. All of that being said, what NFL Total Access did in comparing Dak Prescott to Brock Purdy looked disrespectful, and glistening with internalized racism.
Is Brock Purdy the most relevant Mr. Irrelevant of all time?
What has made its way around social media is a still image from Wednesday night's show. During a segment, Mike Yam, Thomas Davis, and Michael Robinson were comparing Purdy and Prescott ahead of the Dallas Cowboys and San Francisco 49ers playoff matchup. For viewers who didn't know that one quarterback is Black and the other is white, all they had to do was look at the screen in the background. And I'm not talking about the pictures of both signal-callers.
The "comparison"
A rookie seventh-round draft pick — Mr. Irrelevant — according to this segment, is both more poised and a better decision-maker than a veteran quarterback in his eighth season, who has won two playoff games and made two Pro Bowls. However, in the athletic categories — arm strength and mobility — the Black veteran got the nod. I guess if the producers made agility the final category instead of decision making Prescott would have won this time-filler of a segment.
Who's to blame?
After watching the entire segment, I came to the conclusion that the blame can be placed on two parties. A third of it belongs to the producers. I know they need as many segments as possible to fill airtime, but they also need to exercise better judgment when it comes to optics. With what was given to the analysts to quickly make a segment out of on live television, the undesirable outcome of a white quarterback being called smart and the Black quarterback athletic had a good chance of happening.
The other two-thirds belong to Davis. This former NFL All-Pro said with a straight face, on national television, that Purdy is more poised than Prescott. Davis' reasoning is that Purdy was thrust into a championship-caliber situation and told not to mess it up, and the young man has made few mistakes. Davis also gave Purdy the edge in decision-making because Prescott is tied for the league lead in interceptions.

As impressive as Purdy has been in keeping the 49ers' car on the road, it's not as if he has been forced to navigate any sharp turns. Prescott has been forced to drive a Cowboys' car with significantly less stability and horsepower, and is still expected to win. Switch these two quarterbacks and the 49ers are the No. 1 seed, while six games of Purdy might have kept the Cowboys out of the playoffs. They at least would have gotten drubbed in their wild-card game.

Maybe a small piece of that blame that Davis deserves should also go to Robinson. He's the one that gave Purdy the edge in accuracy. Robinson's reasoning was that Kyle Shanahan schemes his wide receivers so open that the throws aren't difficult.

The person who comes out of this head-scratching viral moment unscathed is Yam. He said twice in the segment, "I can't believe we're having this conversation."

That should have been the thought as soon as someone presented this idea. If the production team still felt the need to go forward with it then fine, but fail-safes should have been put in place. Specifically, something that wouldn't allow a segment to end with a rookie white quarterback being called smarter than a Black one, and it is highlighted in red.

Also, Thomas Davis, do better.