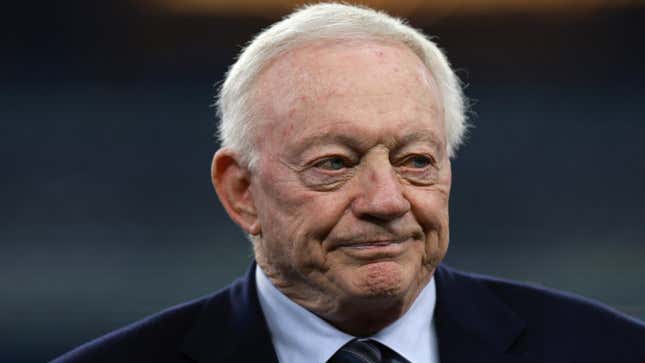 Is Dan Snyder a human shield for Jerry Jones? | Conspiracy Thursday
If there's one thing we know about Dallas Cowboys owner Jerry Jones, it's his love of the spotlight. The when, where, or why never matters. Shove a camera or live microphone in his face, and he'll spew Cowboys propaganda to no end. So, when Jones cancels his weekly date (every Tuesday morning following a Cowboys game) with 105.3 The Fan in Dallas, you know it must be for a good reason.
A lot is going on in the DFW for Jones that needs to be addressed. He's got a quarterback he paid an outrageous amount of money to a couple of years ago who can't produce in the biggest moments. The team's kicker suddenly came down with a case of the yips after being "money" all year. The team's highly paid running back has underperformed his contract over the past two years, and his replacement suffered a broken leg in the loss to the 49ers Sunday.
Face the music, Jerry
We've seen this before from the Cowboys. All-Pro linebacker Micah Parsons skipped out on his weekly engagement with FS1's Undisputed the first week he was scheduled to appear. That happened two days after Dallas' season opener, where they were dominated by the Tampa Bay Buccaneers, 19-3. Parsons selfishly dodged the responsibility he signed up for, and Jones is following suit.
After an embarrassing 19-12 loss to the Niners, who wants to answer a bunch of questions about Dak Prescott's future, Brett Maher, Ezekiel Elliott, and any of the other issues currently floating around the Cowboys' facility? Jerry sure doesn't. Lack of accountability is one reason Dallas failed to advance past the divisional round in almost 30 years. Making the postseason in back-to-back seasons was the first time they'd done that since 2006 & 2007.
Jones is likely so torn up over this latest failure that he couldn't face the public or even talk to them Tuesday morning. If anything was "too soon," it's his Tuesday morning show following a disappointing loss to Dallas' biggest playoff rival during the owner's tenure. Mr. Jones is mega-rich and will be fine. No one here is shedding a tear because he's embarrassed by the team he assembled.
Lots to contemplate in Dallas
Elliot has been worn down into nothing more than a short-yardage back whom they paid $90 million. Prescott proved again that he isn't elite and never will be with his inconsistency. And we're still trying to figure out exactly what Mike McCarthy does as head coach of this team. Knowing Jerry, he's probably busy contemplating how he can keep his coordinators, since they could both be up for head coaching opportunities elsewhere on the heels of consecutive 12-win campaigns.
Despite another good season, Jones knows his organization can improve in many areas. The one area that'll always remain the same is his interference in football matters. Amazingly, we haven't seen Jones officially name himself head coach after all this time. Al Davis coached his Raiders for a few years in the '60s. That was a much different time, but both men controlled their franchises with similar mindsets.
The bottom line is that Jones doesn't need to pout and fulfill his obligations or quit talking about big and bad after a couple of nice regular season finishes. Just win when it really matters, baby.