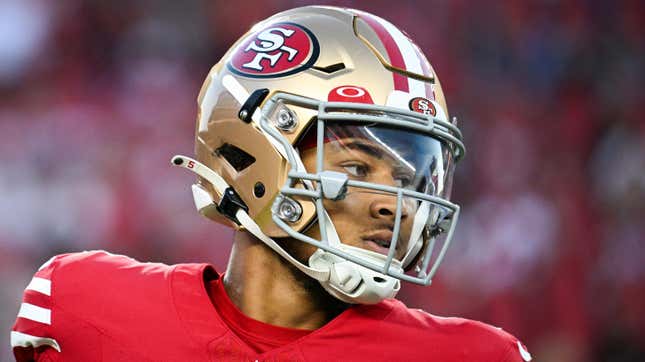 Dallas Cowboys owner Jerry Jones is no stranger to controversy, whether it positively or negatively affects his franchise. Jones recently made a move that won't yield immediate results but may have saved a career. Trading that fourth-round pick to San Francisco for Trey Lance was the life preserver needed to rescue the former No. 3 overall pick from those choppy bay waters.

Is Dan Snyder a human shield for Jerry Jones? | Conspiracy Thursday
Lance had no shot with the 49ers
Lance was going nowhere fast in the Bay Area and falling further behind every quarterback on the 49ers' roster. Although he hadn't received much playing time due to injury, circumstance, and simply not being ready for the spotlight, Kyle Shanahan and his coaching staff had seen enough to move on. In doing so, San Francisco admits they reached by moving up in the draft to select Lance. Trading three first-round picks in consecutive years may have seemed ideal at the time, but hindsight is always 20/20.
That two-year chapter that barely got a once-over is now complete. Lance gets a fresh start with no expectations, and the Niners get a fourth-round draft pick. Everybody "wins." The biggest winner in this situation is Lance, and it's evident as he had a big smile on his face upon hearing he'd been shipped to Big D.
"I really tried to not expect anything one way or another, but I can say that when I heard 'Cowboys,' I had a big smile on my face," Lance said. "I was very excited to be here."
Sounds like a happy ending, at least in this scenario, for Lance as he enters his third NFL campaign. He had four starts in two seasons with the 49ers, and he was only active for eight of a possible 34 games during his time in the bay. But fresh starts and second chances are what we love. In all honesty, Lance's shot at redemption might not even happen in Dallas. But he needed an escape route out of a situation that turned sour quickly in SF.
Time to sit and watch — and learn
Now Lance can sit behind Dak Prescott and take in all he can. Learn and improve; it's simple. Well, on paper anyway. Cooper Rush is still in the QB room in Dallas for now. So, we may not see Lance on the field taking snaps in a Cowboys uniform anytime soon. And that's fine. That's the best thing for his career because nobody expects anything from him in Dallas. He needs to go in and be a good teammate and turn into a sponge, soaking up all the knowledge he can.
Even if Lance gets no live action this year but reports come out about how he's grown in practice and conducts himself as a model teammate, this could turn into another trade chip for Jones. If the Cowboys extend Prescott, which they likely will, then Lance will never become the man in Dallas. You can view him as more of an insurance policy if things go sideways with Dak.
Remember, Lance is only 23 years old. He's got a lot of years left ahead of him. So, there doesn't need to be a strong sense of urgency to get something out of him now like there was in San Francisco.
Whatever happens in Dallas with Lance, it's better than the alternative, which was wasting away on the Niners bench for a couple more years and losing all hope. The Cowboys threw him a lifeline, and now it's up to Trey to make the best of his new situation.