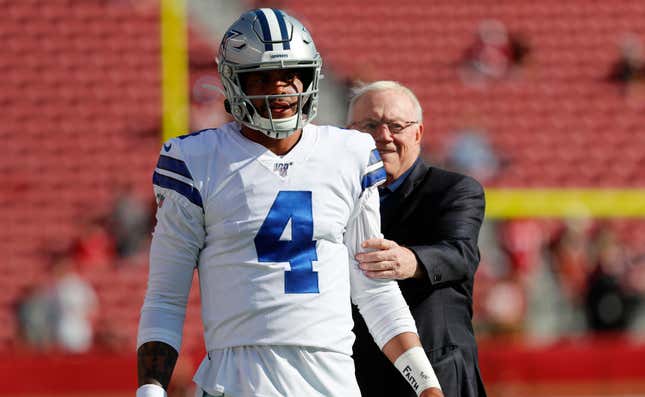 There's a lot that comes along with being quarterback of the Dallas Cowboys. When all is going well, and America's Team is winning, you get all the praise, and when they aren't, the finger will be pointed in your direction regardless of what happened on the field. This is how it's supposed to go for the starting QB in Big D, but it hasn't always gone this way for Dak Prescott. The saying about respect being earned has never been truer than in Prescott's case. Entering year eight, Dak still doesn't command respect like many of his QB counterparts around the NFL.
Mahomes or Hurts? Who will win NFL MVP? | Agree to Disagree
While Prescott has yet to win "the big one" like many of his contemporaries, the level of criticism always feels different regarding Dak. It's not just from the outside world, but also within the organization. Everyone has seen the incident between Prescott and teammate Trevon Diggs. It would be hard to get anyone to believe that an exchange during practice would've gone the same way with any of Dallas's prominent QBs of the past. No offensive player breaking the huddle with Troy Aikman or Roger Staubach would have sat back and let that level of disrespect ride in that moment. That wouldn't have even been acceptable during the Tony Romo era in Dallas.
Maybe someone got with Diggs after practice and talked to him, but the damage was already done. Even if the former All-Pro didn't mean his dressing down of Prescott disrespectfully, optics are everything. It didn't look or sound good. That's the bottom line, and although Diggs did "explain" his actions later, it doesn't change what happened. Practice is a competitive environment, but in the NFL, it's rare to hear teammates go at the QB in that fashion. It might happen, but we don't see it unfold in front of the world in that manner.
However, that seems to be the story of Prescott's career. Struggling to gain everyone's respect. As a fourth-round draft pick thrust into action due to Romo's injury in 2016, nobody expected much from Dak. It has even been a struggle to gain Jerry Jones' respect. It took two years for Jones to finally break down once he felt there was no other choice but to give Prescott a new contract when his rookie deal was set to expire. Dak is now ready for an extension, and everyone will be watching to see how long Jones makes him wait this time.
Some might look at race in Prescott's case when it comes to the team making him wait so long for a new contract a few years ago. Dak is the first prominent black QB to take the reins and lead the Cowboys. The struggle of African-American QBs in the NFL is well documented. Baltimore Ravens QB Lamar Jackson has dealt with outside doubt even after winning MVP in '19. On the flip side, you look at Patrick Mahomes, and he's just as black as Prescott, a biracial player. Mahomes is highly respected around the NFL, not just by his team. It's hard to imagine any of Mahomes' Chiefs teammates going at him the same way Diggs went at Prescott.
We know Dak hasn't accomplished the feats of Mahomes or Jackson, but both QBs have the full respect of their locker room. Actions mean a lot. Just because you say you respect someone doesn't mean you actually do. Jones said publicly after re-signing Prescott that he "overpaid." Whether that was true or not, to say it out loud during a press conference wasn't necessary. So, is it a race thing? Or is it that those around Prescott don't fully believe in his ability to get the team over the hump? With the season nearing, we're going to find out soon.