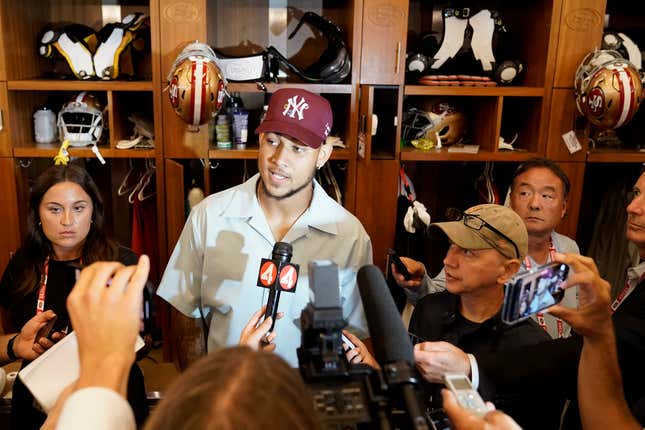 Kyle Shanahan has been watching Trey Lance practice for three years. He knows a great deal more about the young man than I ever will. If Shanahan is willing to write off the loss of first-round draft picks in 2022 and 2023, and be done with Lance on the San Francisco 49ers, he must certainly have a good reason that I doubt he will share with the public in detail.

Was Trey Lance Kyle Shanahan's biggest mistake? | Agree to Disagree
NFL Network's Ian Rapoport and Tom Pelissero reported on Wednesday afternoon that free agent acquisition Sam Darnold will be the No. 2 quarterback for the 49ers. Brock Purdy and his medically cleared right elbow will be leading the team from behind center in Week 1.
The logical move at this point is to trade Lance. There is no need to carry him as a practice squad quarterback when he has trade value. Maybe the 49ers can get back an extra first-round pick in exchange for a quarterback few people outside of San Francisco have ever seen throw on a regular basis.

Purdy did play well last year when forced into action after a second 49er quarterback suffered a significant injury. They continued their winning ways and would not lose until he had to play against the Philadelphia Eagles in the second half of the NFC Championship Game with a torn UCL in his throwing elbow. He was not physically able to attempt a pass and the 49ers got squashed.

While playing quarterback in the NFL is a pressure cooker like few other jobs, Shanahan did his best to set Purdy up for success. The 49ers' running game is always strong, and in the passing game, their top pass catchers had averaged more yards of separation when making a catch than any other group in the NFL.
If Shanahan believes that he can set up the type of offense that will allow the last overall pick in the 2022 NFL Draft to succeed at championship level for an entire season, more power to him. However, this could be a situation like the Atlanta Falcons legendary Super Bowl LI collapse. Shanahan may have again gotten too cute for his own good.

In that Super Bowl, the Falcons were famously up 28-3, before losing in overtime to the New England Patriots 34-28. The Falcons entered the second half up 21-3 and ran the ball nine times the rest of the game. Devonta Freeman rushed for better than 1,000 yards in consecutive seasons and averaged 4.8 yards per carry in 2016.

Freeman totaled 71 yards and a touchdown on six carries by the 12-minute mark of the second quarter. He carried the ball five more times the rest of the game. Three yards and a cloud of dust may not have been the answer on every play, but they needed to keep that clock rolling in the fourth quarter and were unable to do so.

Shanahan became head coach of the 49ers the next season and quickly restored a franchise that was in complete disarray. His offense creates openings that usually are not that wide in the NFL. His 49ers have gone to a Super Bowl — that they also lost after squandering a second-half lead — and been to two other NFC Championship Games.

He has done a lot right, but no human being is infallible. The 49ers gave up a king's ransom to move up in 2021 to draft Lance and were all in on him as their future at the start of last season. He gets injured less than six quarters into the 2022 season and now he is being declared a sunk cost.

Maybe Shanahan is creating an opening that none of us can see coming, or maybe he is again making his job harder than it has to be.