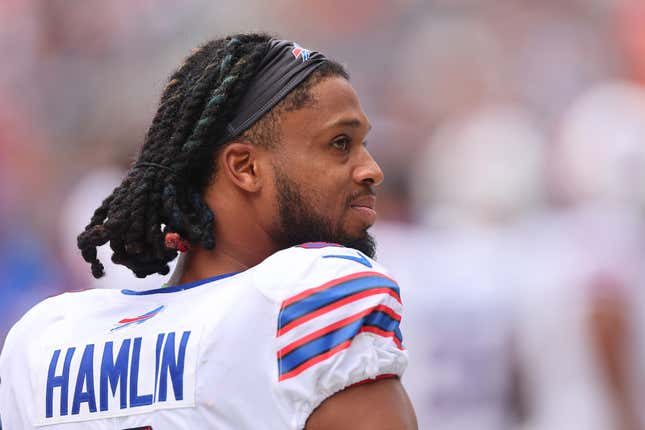 Damar Hamlin's return is almost complete. Bronny James is "doing extremely well" in his recovery. You're not a bad person for wondering if playing again is the best idea for both of them.

In the same week that Hamlin officially made the Bills' roster for this upcoming season — which was expected — it was reported that James is making progress and is attending classes again at USC.
Hamlin is a 25-year-old grown man whose base salary will be $940,000 this season. In January, the country watched as many of us thought we saw him die on the field during Buffalo's Monday Night Football matchup with the Cincinnati Bengals after he collapsed — needing to be resuscitated twice before an ambulance transported him from the field to a local hospital. He became an example of how dangerous football can be, why AEDs are so important, and why players in the NFL should have guaranteed contracts.
"When you step in between them lines, you're putting yourself at risk by hesitating and by reserving yourself," Hamlin told reporters after his first game back during the preseason. "I made the choice that I wanted to play. It wasn't nobody else's choice but mine. So making that choice, I know what comes with it."
Athletes' health issues can educate the wider public
James is an 18-year-old freshman at USC — who is older than his father (LeBron) was when he was drafted No. 1 by the Cleveland Cavaliers in 2003 — whose future is still uncertain after he collapsed at practice due to cardiac arrest six months after the sports world was rocked by Hamlin's situation. James' NIL valuation is close to $10 million, and his father is a billionaire — but he still essentially plays basketball for "free," given that he's an "amateur" according to the NCAA. He's further proved how important automated external defibrillators (AEDs) are and is this generation's wake-up call when it comes to heart issues and basketball players, for those who are too young to remember Reggie Lewis and Hank Gathers. The James family recently released a statement saying that a congenital heart defect was the cause.
"The good thing is he's doing extremely well and he's in class right now. And we all love him," said USC head coach Andy Enfield. "I think everybody is hopeful that Bronny will return to the court. We just have to be patient and take it step by step."
According to the American Heart Association, nearly half of all adults in this country have some type of cardiovascular disease. 116.4 million, or 46 percent, of adults are believed to have hypertension. By 2035, it's been projected that as many as 45.1 percent of the population in the United States will have some type of cardiovascular disease — and these were the estimates before the world was introduced to COVID-19.
According to the Mayo Clinic, "about 1 in 50,000 to 1 in 80,000 young athletes die of sudden cardiac death each year. For comparison, the incidence of sudden cardiac arrest in the general population is about 1 in 1,000 people yearly."
Heart conditions are endemic in the US
In this country, you, or everyone you know, are related to, or work with, are bound to have some type of heart condition at some point in their lives. And as much as we may know that (without even realizing it), it hits differently when we see it happen to a pro athlete on TV, or hear that it's happened to the son of one of the most in-shape athletes sports has ever witnessed.
In a few weeks, Hamlin will be involved in a collision on the field — and many of us will hold our breaths hoping that a repeat of what occurred in January won't happen again. Eventually, Bronny James will play basketball again, be it for USC or in his backyard with his dad.
Life is full of risks, and choices. Damar Hamlin has made his, and the James family has a very important one to make soon. This hasn't been a column that's dedicated to attacking the choices that have been made, and the ones that haven't yet. It's one that addresses the fact that feeling uneasy about a person's decision isn't a crime.