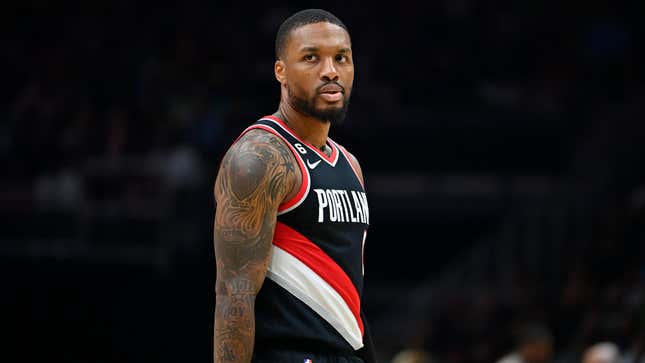 Seemingly the entire world of sports media is screaming at Damian Lillard to pick up his basketball and go to a contender. It's demand-a-trade season, we do it every summer, and Dame is off galavanting with Veronica Corningstone, while a bevy of Champ Kinds pine for his musk. Brian Windhorst, Stephen A. Smith, the entire staff of The Ringer, NBA Twitter, Miami Heat fans, my coworkers, and a million other people are begging, pleading, fiending for the other shoe to drop, and yet, he's still a Trail Blazer.
Jordan Poole ruins Golden State Warriors comeback and… we're being too hard on him | Keep it a Buck(et)
I'm not naive enough to have any confidence that Lillard will remain in Portland for the foreseeable contract, but I also live in the moment, and at the moment, all you motherfuckers whining about how he doesn't want to win, he just wants to put up numbers and cash checks, and he's this or that, please, keep it coming. I'm serious. Should this soaring level of schadenfreude be the last happiness Lillard grants me and other Blazers' fans, so be it.
It's glorious. ESPN literally had to cut a clip with a headline of "What happens now that Dame didn't request a trade?" I never clicked on it because Windhorst looks so desolate in the screengrab they used for art that I didn't want to sully the image.
If this goes on any longer, I fear for Stephen A.'s health. He's going to spontaneously combust during one of these rants, or at the very least rupture a lung, and I'm not ashamed to say I'd watch the footage on a loop.
Some people categorize what I'm doing as hating, and it's easy to make that mistake. I'm not casting insults to make myself feel better; I'm reveling in the suffering of objectively bad people, because anyone who wants to take Lillard and his dad hats away from the Pacific Northwest can fuck off.
The harsh reality
Of course, all of my current glee will immediately erode when Lillard inevitably succumbs to the external pressure, and makes the call. Those who are anti-Blazers can then flip the tables, yet I'm not sure NBA fans as a whole care enough about Portland to feel a way about them. Whether the inferiority complex is real or imagined, it feels like whenever a small market team gets in an elevator with Don Draper, they're told he doesn't think about them at all.
Even when a national personality says how much they like Portlandia supporters or the city or the food, it feels patronizing. I understand that it's not a destination, and no free agent wants to come here, but Lillard played at the Moda Center when it was still the Rose Quarter, and he's been happy enough not to force his way to a bigger, more glamorous situation since.
That might not be a free agent actively choosing to come to Portland, but one of the league's most charismatic stars of the past decade has doubled down on the pinwheel at every turn when he could've gone to the franchise of his desire at any juncture.
Lillard's hesitancy could be because the teams of his youth — the Warriors, Raiders, and A's — have been dragged out of Oakland, or are in the process of excommunicating themselves from the City, and he knows firsthand how it feels from a fan standpoint to be told that your home isn't rich, gentrified, profitable, or good enough for nice things.
Whatever the case may be, Damian Lillard is clearly agonizing over this decision, and the fact that he's been more loyal and dedicated to Portland than his own self-interests for 11 seasons means everything to the Trail Blazer community.