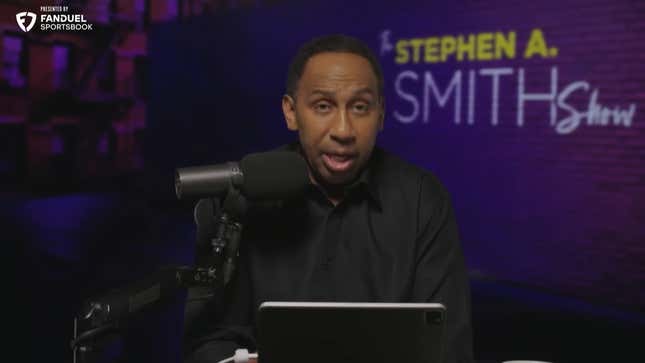 The easiest way to get clicks for the past week or so hasn't been Victor Wembanyama content, or Damian Lillard trade destinations. No, if you really wanted to gin up page views and subscribers, put Zion Williamson and Moriah Mills in a headline. It's the reason why Stephen A. Smith has repeatedly gone to that well, and he'll continue to do so until the public is no longer enamored with the public spat between the NBA star and the sex worker.
We've found Jake (or Logan) Paul's next opponent
I understand this, and am more or less unmoved by any update or threatening tweet. Now if there were millions of dollars to be made from ranting about Williamson and Mills, I'd likely rethink my stance. However, if I was already one of the highest-paid personalities at ESPN, with millions to my name, and my bosses didn't ask me to share my opinion — the worldwide leader has more or less danced around this story, mostly covering the trade rumors that arose out of it — I'd probably just let the tabloids have at it.
Well, apparently there were just too many retweets, likes, favorites, views, and attention in general for Stephen A. Smith to pass up the opportunity.
It takes a special level of audacity for a journalist, whose schtick is to scream hot takes at the loudest possible volume, to get mad at another human's plea for attention. He's been at the forefront of the Williamson-Mills coverage, and even has a meme to show for it. Mills entered the chat during one of his live YouTube podcasts/shows, and he made sure to amplify that fact.
Seriously, it's bordering on creepy. Google her work like the rest of us and get it out of your system, bro.
Hot takes are to sports media what money shots are to smut
I'm not here to disparage the fine actors who aren't ashamed of their sexuality or to say some wild shit with a straight face. Lord knows how many people wish for that, right? And like Brazzers or another adult film company of well repute, there's an art to what sex workers and hot take artists do — right down to the producer/director telling the cameraman to zoom in for the climax.
Smith's sense of the moment is as good as any in the biz. During one of ESPN's NBA Finals postgame wrap-up shows, SAS called his own number, and did an entire diatribe about the Heat backcourt's lack of scoring even though they were starting a couple of undrafted players. It's almost as if he knows there are cameras on him, and he's got to really sell the scene. Often it's some big, outrageous take that you think no one would attempt, but, nope, he attacks it with a ferocity unparalleled in any field.
Literally, every time I open up the ESPN app, there are at least four or five clips of Smith "going off" during relatively mundane discussions. He mentions Lillard to the New York Knicks no less than three times a month, and lately, Smith has been so desperate to get Dame out of Portland that you'd think he represented the Trail Blazers star.
Smith's entire existence revolves around bringing eyeballs to ESPN, and the more he goes viral, the more value he has to the people who cut his checks. If Stephen A. did porn, he'd do Dallas.
Say what you will about Moriah Mills getting the most out of her 15 minutes, but we're going on damn near 15 years of Stephen A. Smith, and he still can't get enough.
Elly De La Cycle
Cincinnati Reds phenom Elly De La Cruz helped propel the hottest team in baseball to its 12th straight win, this time hitting for the cycle in an 11-10 win over the Atlanta Braves.
For context, De La Cruz has been in the majors all of 14 games. He's just the third player since 1901 to hit for the cycle in his first 15 games, and he's the youngest player to achieve that feat since Houston's César Cedeño in 1972 (per ESPN).
I've stopped asking what De La Cruz is going to do next, because even the wildest hypotheses come up short.