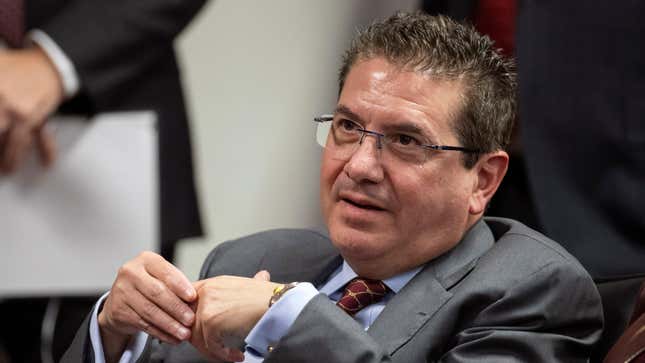 The saga of Dan Snyder's selling the Washington Commanders has had more twists and turns than Waystar Royco in HBO's Succession. It shouldn't take this long to move one from one corrupt billionaire to another and yet, every few weeks, there's another twist that's giving these storylines new legs. Who knew boardroom settings could be so melodramatic? Washington Commanders' sales updates are Hard Knocks for the CNBC crowd.
Is Dan Snyder a human shield for Jerry Jones? | Conspiracy Thursday
The Snyder-era Commanders have been even just as dramaturgically ridiculous. It's been seven months since Snyder secured Bank of America Securities (BofA) to oversee the sale of the dilapidated billion-dollar legacy franchise that attracted a host of bidders. However, it feels like it's been years. In that span, a group led by the current majority owner of the Philadelphia 76ers, and Magic Johnson submitted the $6.05 billion winning bid, while the leading contender led by Jay Z, and Amazon's multi-multi-billionaire founder Jeff Bezos was rebuffed.
Instead of an open and shut sale to Bezos, Snyder allegedly blocked him from making a serious bid out of spite because he owned the Washington Post, which investigated Snyder's malfeasance as head of the Commanders. Snyder is so terrible, he's got me out here defending one of the leading antagonists of capitalism. My fandom is cooked. There were rumors Snyder would keep the franchise if his demands for indemnification weren't met. If that wasn't enough, a mysterious investor with a lottery ticket in the form of a green energy company dubiously valued at $50 billion and overseas benefactors nearly intercepted the winning bid. Eventually, it was sold to a real-life Kendall Roy facsimile in Josh Harris.
It should have ended there, but that's how it works in the Snyderverse. Even after a sale has been agreed to though, the Washington Commanders are still haunted by Dan Snyder's decisions. Why hasn't this show been canceled yet? Essentially, because franchises have grown too damn expensive for even billionaires to buy on their own. Josh Harris couldn't afford to buy on his own, and since renting isn't an option he went with the next best option. He has corralled 17 limited partners, most notably D.C. billionaire Mitchell Rales and the aforementioned Magic Johnson, according to Front Office Sports' AJ Perez. The league cap is set at 25.
Harris, who also owns the New Jersey Devils, and the Premier League's portion of Crystal Palace FC, is stretched thin by his investments in sports franchise ownership portfolio and by the need to eventually finance a new stadium for the Commanders. This isn't a reason to feel sympathy for the poor billionaire, but The Athletic reports that the league is deliberating over whether to make an exception by allowing more debt than their rules currently permit to approve Harris buying out Snyder's 100 percent equity.
Bids on NFL franchises are getting absurd
According to league rules, prospective buyers can borrow as much as $1.1 billion secured against the franchise. Harris is set to crack that limit, which creates a new precedent for a controlling partner. When Snyder purchased the then-Redskins in 1999, his limited partners borrowed against their personal businesses, but the worry about them defaulting on loans wasn't as great because of their piecemeal minority stakes.
As this plays out, losing bidders like Canadian billionaire Steve Apostolopoulos could make a run, but there were questions about his financial viability as well. Most importantly, Snyder wants out because the Harris group has agreed to give Snyder indemnification against civil suits that may be filed against actions related to his tenure as owner, and the league is so eager to move on that they're skirting their rules.
This could have been a much simpler deal if Snyder had sold the franchise to Bezos' deep pockets. Alas, here we are. This may ultimately turn out to be a routine financial inspection, according to Perez's reporting, but at what point do these franchises become too expensive for even the most affluent to buy? The Pre-Steinbrenner Yankees were owned by CBS, but as a private trade organization, the NFL doesn't permit corporations to buy franchises. But, at some point, they may have to relax that policy.
Of course, this saga could all end by the next full owner's meeting on May 22, where they'll approve Harris' entrance into their NFL old boys club. Waiting for the Snyder sale to become official is like waiting for Logan Roy to die and I'm not popping the bubbly yet because I've been fooled before.
---
Follow DJ Dunson on Twitter: @cerebralsportex