A little part of us have always wondered if Darren Daulton's whole time-traveling, metaphysics schtick is a bit of a intricate prank foisted on us by Dutch and John Kruk. But even if it is, it doesn't matter, because it's endless entertaining regardless.
Daulton gave an interview to Philly Comcast Sports the other night. He was in rare form.
I started experiencing these different realms, these different planes of existence ... I know exactly what I'm capable of doing. ... People talk about speaking with lizards and stuff. You can communicate with anyone, with nature, that's all that happened there. To me, that's not a big deal now. I like to astal travel, teleport, travel through time ... December 24, 2012, by the way, that's the number. As seven billion people, the world will rise to another level of consciousness. I don't have all the answers.
Oh, you do, Darren: YOU DO.
Dutch Speaks [Philadelphia Comcast Sports]
G/O Media may get a commission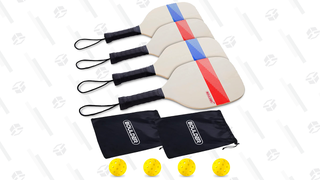 It's Pickleball
Pickleball Sets