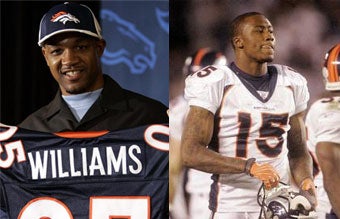 The murder trial of the man accused of shooting Denver Bronco Darrent Williams began yesterday and has already revealed new details of the night of his death—including some that might explain why Brandon Marshall hates Denver so much.
Previous court documents were vague on what happened in the Denver night club on New Year's Day 2007 and how that lead to Williams' shooting, but witnesses testified on the first day of the trial, that it all began with an argument between the group athletes and their friends (there to celebrate Kenyon Martin's birthday) and a gang of drug dealers partying nearby; an argument that either started or escalated when Marahall's cousin got "overdrunk" and sprayed champagne on the gang members. Later outside the club, the cousin had to be restrained from further fighting and the prosecutor says that Marshall even grabbed the head of the accused shooter during the fracas.
Marshall and his cousin did not get in the limo with Williams and his large group of friends as they left, but it's alleged that Willie D. Clark followed that group in his own SUV, pulled up alongside the limo and fired multiple shots, killing Williams and wounding several others.
The description of the actions of Marshall and his cousin lends even more weight to the weekend column by the Denver Post's Mike Klis, stating that the murder is the real reason why Marshall has been demanding a trade from the Mile High City for most of the last year. A good friend was killed, he feared for his own life—naturally, after tangling with a violent gang—and also blamed local police for not doing enough to catch the killers. Now the case is being laid out with Williams as a simple innocent bystander and Marshall himself playing a role in the chain of events that led to his death. Kils describes Marshall as "tormented" and wracked with guilt, though he has never spoken publicly about that night.
Maybe Marshall isn't so much a crybaby (yeah, sorry about that), as he is a guy who suffered a terrible personal tragedy and isn't dealing with it very well. He will likely be called to testify in open court about what happened that night, which might help him come to terms with the incident—or only make his grief worse.
Prosecution: Slain Bronco Darrent Williams was an innocent bystander [Denver Post]
Klis: Williams' murder big reason Marshall wants out [The Denver Post]
P.S. Keep an eye on the Denver Post's coverage of the trial, which has been solid so far.