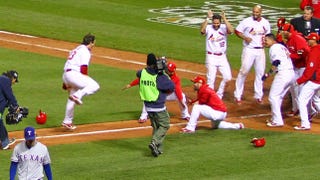 The Classical launches in November, but the cruel folks behind it love baseball way too much to let the World Series pass without comment. Throughout the series, its writers will do a daily diary for Deadspin. Keep tabs on us @Classical.
We should have known Game 6 was going to be eventful when, by the time Texas made the first out of the game, the score was already 1-0 and the Rangers had men on the corners. But with home plate ump Gary Cederstrom's strike zone seeming something like a tribute to Eric Gregg, the game appeared destined to speed along. And it mostly did, until the fourth inning, when Tony La Russa could wait no longer and made the first of many moves, replacing starter Jaime Garcia with Fernando Salas. Joe Buck noted that the Cards bullpen had been doing work, saying La Russa, "wore out that bullpen—not in a bad way!" I guess he wore out his bullpen in a good way?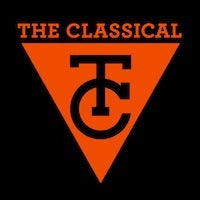 With his phone troubles in the past, La Russa was back in full force, making moves with a vengeance. (Conversely, we mostly notice Texas manager Ron Washington not for his managing, but for his reactions to plays.) Still, as often as La Russa tried to force matchups in his favor, when La Russa didn't lift the righty Motte to have a lefty pitch to Hamilton in the top of the tenth 10th, Hamilton promptly went deep.
Throughout the Series, Tony La Russa has handled his team like Lennie handled his puppy. Though I came into this Series neutral, I've found it tough to root against Ron Washington, who seems totally comfortable with his friar hairline and Benes-like dugout gesticulations, rooting for his team while madly spewing sunflower seed shells. But I also appreciate his managerial tenor, the way he seems to consistently get his players to give maximum effort.
I didn't care who won Game 6. Still, it was one of the most dramatic and entertaining sporting events I can remember watching. Twice last night the Rangers were within one strike of winning the World Series, but they couldn't do it. As many times as the game seemed like it was over, it wouldn't end. Three different Rangers pitchers were charged with blown saves. By Twitter consensus, it was one of the greatest World Series games ever.
That doesn't mean, however, that anyone was watching. According to USA Today, through five games this World Series was the lowest-rated World Series ever. Game 3 and Game 4 outdrew the NFL games they were up against, though those were the Indy/Saints blowout and a Jacksonville/Baltimore slog. (According to @tvsportsratings, "Big Bang Theory on CBS outrated World Series Game #2 in P18-49 (5.1 vs. 4.0) and average audience (14.9 million viewers vs. 14.3).")
There hasn't been much that has felt special about the Fox broadcasts, with the same music that they use for the NFL and with sponsorship logos on what seems like every graphic. Meanwhile, on loop at the breaks we've got Brian Wilson starring in Taco Bell commercials or the spots where the Jennie-O corporation claims the turkey burger ("cooked thoroughly to 165!") is a better burger.
The Atlantic's piece yesterday about the ways people used to watch baseball had a photo of thousands of fans waiting around on a street in Washington, desperate to hear updates from the 1912 World Series. One hundred years ago, baseball was America's pastime, because we needed ways to pass the time. These days, with hundreds of TV channels and numerous ways to consume information, baseball seems to have been fractionalized by a combination of geography and technology. The NFL has overtaken baseball in popularity, and the NBA is America's most global sports league.
Actually, if last night's game reminded me of anything, it was of attending Game 5 of the 2005 NBA Finals in Detroit. The Pistons and Spurs were tied at two games apiece, and although the Pistons seemed to have a firm grasp on the game the entire night, Robert Horry made a succession of increasingly ridiculous three-pointers, with a dunk over Rip Hamilton thrown in, and the Spurs won the game in overtime.
During the fourth quarter, as the game swung back and forth, there was a real, visceral feeling of wonder and fear in the arena. That night, Horry slowly and systematically destroyed the Pistons fans. By the time the game ended, everyone shuffled off in silence, their hearts busted. I was there covering the game for SLAM, with no rooting interest, but it was impossible not to get swept up in the sentiment in the arena. The Spurs went on to win the series, but that became the signature game of those Finals and one of the great single-game performances in NBA Finals history.
Although I've been to hundreds of NBA games, this one game stands out in my mind above all the others, for the drama and the feeling even more than the amazing plays. As sports fans, that's why we watch again and again. It's easy to make jokes about managers and announcers and athletes, but at the risk of being overly earnest, as we saw last night, there's still magic in these games.
Lang Whitakeris the editor-at-large for SLAM magazine and a contributor to NBA TV. He is the author of In The Time of Bobby Cox: The Atlanta Braves, Their Manager, My Couch, Two Decades and Me. He is a co-founder of The Classical and tweets here
For more about The Classical, check out their Kickstarter page and their Twitter feed.