A celebration of the NBA's most infuriating players, both past and present. Read other NBA Shit List entries here.
Is Texas or Florida State a bigger national title contender? | Agree to Disagree
Knicks teams of the past decade or so have not wanted for bad players. Anyone who's watched their games could rattle off an exhaustive list of bad post defense, bungled five-footers, and all the flavors of Chris Duhon's uncompromising uselessness.
But it's difficult to rage too violently against any particular Knick, because the franchise's true incompetents have always been obvious: owner James Dolan, and general managers Isiah Thomas and Scott Layden. They're the ones who botch $100 million contracts and waste inexplicable amounts of effort and money to sign aggressively mediocre players. They're awful. Everything is awful. It's all a nauseating, godforsaken mess.
And Michael Sweetney explains all of this. That poor motherfucker.
Through only a little fault of his own, Michael Sweetney remains the symbol of all the ugliest tendencies of the franchise during this past decade of Knicks misery. He's Agent Coulson, if each Marvel movie had lost roughly a billion dollars and shit in fans' mouths in new and more inventive ways.
Let's get the cruelest and most obvious part out of the way first: Sweetney is very fat now. It's funny. You're laughing at him right now, because he looks like a Wendy's Frosty poured into a garbage bag painted to look vaguely like a cheeseburger wearing a basketball uniform. You laugh, a lot, until you realize how shitty it must be for someone like Sweetney—by most accounts a totally decent guy—to work in a profession in which his occupational deficiencies are so apparent.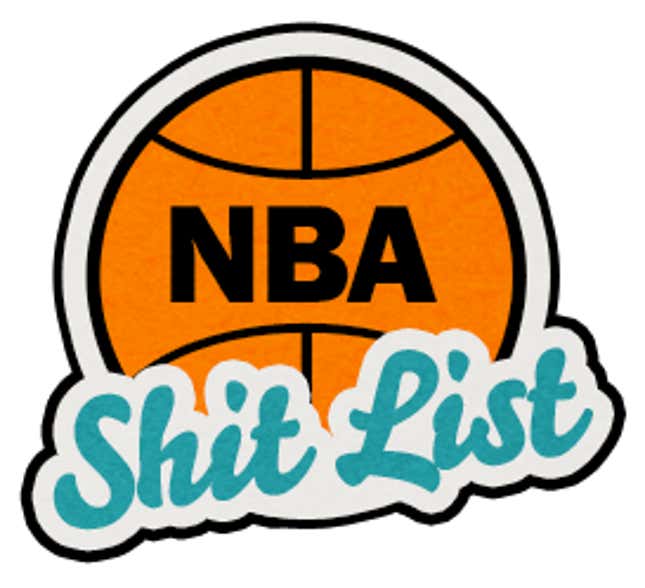 He wasn't quite so massive when he was drafted ninth overall out of Georgetown in 2003. In fact, he was the only Knicks draft pick of the past decade that I can remember fans on hand at the draft having actually cheered. (Spike doesn't count. Spike cheered for Renaldo, who was underrated but ugh god whatever this isn't the time.) We should've known, but we didn't, because we're stupid. And that's the first thing Sweetney signifies: just how dim, gullible, and completely delusional New York's fanbase is.
We thought of him as a product of the big-man finishing school that produced Ewing, Mourning, and Mutombo. Never mind that Sweetney didn't play anything resembling the defense of those three, or that he was four inches shorter than Ewing and a half-foot shorter than Mutombo, or that the only way he'd have beaten Mourning down the court was if you'd put a buffet at the other end. We had him as an heir to those guys instead of what he really was, which was an early, limited ancestor of all these skilled big men who now seem annually to come plopping out of tubes along the Potomac. But whatever. Knicks fans painted him as their very own Elton Brand before they'd left Radio City MSG that night. They had just drafted Mike Sweetney in the top 10 of maybe the best NBA draft of the past 25 years. They were rhapsodic.
Which brings us to former Knicks general manager Scott Layden. You remember Layden. He was GM of the Knicks from 1999 to 2003, coming in just after the Knicks' rapturous but Forrest Gumpish finals run in 1999. In relatively quick succession, Layden gave Latrell Sprewell a five-year, $61 million extension, traded Patrick Ewing to the Sonics for a package built around Glen Rice and Travis Knight that would clog up the cap for years, and then, to really close the casket, paid Allan Houston $100 million to never play basketball again. He was fired in 2003. His last meaningful act as Knicks GM? Drafting Michael Sweetney.
Because that's what the Knicks did in those days. They collected undersized, ineffectual, and often infirm power forwards and centers. That was their shtick, the way that "pervasive and perpetual awfulness" is their shtick today. Othella Harrington, Clarence Weatherspoon, Malik Rose, Junkyard Dog, Jackie Butler, Michael Doleac (tallish! but also very bad), Maurice Taylor, Keith Van Horn, injured Antonio McDyess—none taller than 7 feet, zero elite NBA skills among them. (Adults-in-the-room Kurt Thomas and Nazr Mohammed were solid, if you were interested in watching 67-55 NBA finals or in repeatedly punching your eyes in their penis.)
Fans thought Sweetney would be different. Because, again, we are deeply stupid. Mike could play, sure. He was drafted as a big man with a soft touch, and in his first season, he delivered. He easily beat out Harrington and Weatherspoon for playing time. His true shooting percentage, effective field goal percentage, and rebound rate all came in ahead of Elton Brand's marks as a rookie. By his second year, he was pushing Kurt Thomas and Mohammed for starter's minutes. Looking at his numbers now, his comps after two years are guys like Al Jefferson and Chris Bosh.
It's also probably worth mentioning that the 2003-2004 and 2004-2005 Knicks were two of the most depressing rosters ever assembled to play professional basketball. Yeah, there was Mike Sweetney, Face of the Future. But read the other names on those rosters. Then look at the salaries.
Even as the last draft pick of Scott Layden era, Sweetney survived the roster purge initiated by new GM Isiah Thomas. He is the land bridge between two tragicomic empires of unprecedented failure. Knicks fans, for their part, were hopeful that Thomas would be the one to finally turn things around.
He didn't, naturally. Thomas traded Sweetney in 2005 as part of the deal for Eddy Curry, who had just refused DNA testing in Chicago for a congenital heart condition, because of course that's how this horror show ends. Without much consideration, it's probably the worst trade in Knicks history. The final balance:
Knicks: Curry and the biggest ongoing joke-contract of the league for four of the next five years, carrying into the richest free agent summer ever; Antonio Davis.
Chicago: Sweetney, JYD, Tim Thomas, and draft picks that would become LaMarcus Aldridge and Joakim Noah. Sweetney would play two seasons for the Bulls, struggle with his weight, and drop out of the league.
He was last seen beaching himself on the shores of Puerto Rico, playing in their National Superior Basketball league, though he's also been through the Uruguayan Basketball Federation. All of that looks as funny as you want it to in real life.
Which is to say, he makes you feel like shit. You feel like an ass for laughing at him, career shot to hell, getting by in Puerto Rico by weaving his giant ass through tiny men. He's a living reminder of all the bad breaks and worse decisions, the insane fan expectations, the unfulfilled potential, the compounded stupidity, all the things that have made Knickdom so much worse than we ever thought it could be. He is our story, and the legend still grows.
Kyle Wagner is a writer at Gizmodo. Image by Jim Cooke.